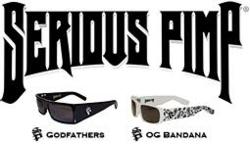 "It doesn't matter how big a celebrity you are, or think you are, Serious Pimp will aggressively defend its brand and trademark against anyone or anybody who infringes on our patents and trademarks" Damian Kutzner, Serious Pimp
Hollywood CA (PRWEB) April 09, 2012
Serious Pimp, the leading hip-hop apparel, sunglasses and accessories company co-founded by entertainment icon Snoop Dogg, has reached a settlement with "Jersey Shore" reality series star Michael "The Situation" Sorrentino that includes payment by Sorrentino of monetary damages, it was announced today by Damian Kutzner, CEO of Serious Pimp.
The parties reached an agreement prior to Serious Pimp taking formal legal action and agreed to not disclose the details of the agreement including the amount of the damages, according to Kutzner.
"It doesn't matter how big a celebrity you are, or think you are, Serious Pimp will aggressively defend its brand and trademark against anyone or anybody who infringes on our patents and trademarks," said Kutzner. "Whether its honoring signed agreements or misuse of our IPs, this is an example of how Serious Pimp will not back down in any way in to protect our brand."
Serious Pimp has consistently and aggressively protected its copyrights, trademarks and other valuable intellectual property previously by filing lawsuits in federal court against individuals and companies that allegedly stole proprietary designs, marketed unlicensed copies of the company's popular sunglasses and engaged in unlicensed manufacture and sale of sunglasses that infringe on the Serious Pimp "Original Gangsta" OG BANDANA design (including Serious Pimp, Inc. v. Greg Stefanik et al, case number SACV10-01070 JVS (MLGx) in United States District Court, Central District of California).
"If you or your company steal our designs, pirate our products or violate any of our trademarks, we will come after you in court and pursue every legal remedy and penalty available in our defense of our brand," said Kutzner.
About Serious Pimp
Serious Pimp designs sunglasses, accessories, and clothing that blend Hip Hop style with MMA attitude. Since its inception in 1999, Serious Pimp has been a supporter of extreme sports including mixed martial arts including sponsoring a long list of fighters. SP Enterprises was founded by Real Estate and Business entrepreneur, and company CEO Damian Kutzner and is lead by its President Snoop Dogg and Chairman of the Board Bishop Don Magic Juan. SP has a high profile following and endorsements by Hip Hop's elite such as Ice Cube, Ice-T, Tha Dogg Pound, and MMA Legends Kimo, Tito Ortiz, and Rampage Jackson. For information visit http://www.seriouspimp.com.