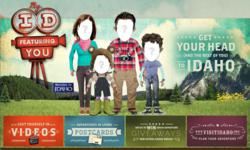 Boise, ID (PRWEB) April 10, 2012
The Idaho Division of Tourism announced today the launch of its 2012 prime season marketing campaign, My ID. Designed to showcase the state's scenic beauty, affordable family-friendly destinations and abundant outdoor recreational opportunities, My ID encourages visitors to interact with personalized content featured on the official Idaho travel website, http://www.visitidaho.org.
Utilizing innovative patented photo-personalized technology developed by PixFusion, a leader in personalized entertainment and composite imagery across all media formats, My ID invites visitors to cast themselves, family, and friends in any of three entertaining Idaho online adventure videos:
--Agent 208 (Experience the mystery and intrigue of Idaho in this spy adventure.)
--Are We There Yet? (The entire family will enjoy this RV trip through Idaho.)
--Adventures in Loving (Romance is alive and well in Idaho.)
To take part in the online adventure, all you need is a sense of humor and photos from your computer or Facebook account. Once created, the video may be shared via social media channels such as Facebook and Twitter. Guests may also put themselves into any of eight customizable postcards, add a message and send them to friends and loved ones.
"This is an amusing, innovative way to share all the great vacation possibilities in our state," says Karen Ballard, Idaho Division of Tourism Administrator. "Friends and family who appreciate Idaho will help share the story on how fun an Idaho vacation can be. We're excited to combine PixFusion's interactive elements to showcase the scenery and activities that make Idaho special," Ballard added.
"'Imagine yourself here' just took another big leap with the Idaho Division of Tourism's new campaign," commented Rich Maryyanek, CMO PixFusion. "In this incredibly fun campaign, people not only get to see what Idaho has to offer families, but see themselves as they go for the ride."
The My ID integrated campaign also includes an online sweepstakes, targeted print and online advertising, PR/social media outreach and video assets. Communications will focus on Idaho's larger destinations like Coeur d'Alene and Sun Valley, as well as the smaller communities that offer a wealth of recreational activities, events and attractions.
During the twenty-two week sweepstakes, weekly giveaways will be announced on Fridays and visitors may enter on http://www.visitidaho.org/MyID via email, Facebook or Twitter. Sample sweepstakes prizes include overnight stays, whitewater rafting trips, attraction passes, event tickets and even multi-day destination packages.
For more information on all things related to Idaho tourism or to order a 2012 Idaho Travel Guide, visit http://www.visitidaho.org.
Idaho—Adventures in Living
Idaho is home to thousands of miles of biking trails, mountains to climb, lakes to fish, 18 ski resorts and more whitewater than any other state in the lower 48. So take a break from it all and come out to play. Idaho—adventures in living. Visit http://www.visitidaho.org for more information and vacation ideas.
About PixFusion LLC
New York-based PixFusion LLC is a global leader in personalized entertainment, employing its patents and technology in a variety of products and services. Its' Kideo personalized video products for preschoolers have won several awards such as the iParenting Media Award and The National Parenting Center Award. The Kideo line includes the popular Dora the Explorer and Care Bears licenses. In addition, the company also markets digital products for adults and teens under its' PixFusion brand, including Paw's Garfield comics and U.K. social expression brand, Purple Ronnie. Through its licensing division, the company offers an array of turn-key marketing solutions, including use of its StarMaker proprietary I.P. platform, to leading companies like Subway, Pep Boys, and JibJab.
PixFusion Contact:
Callie Burrows, Brett Gold
DKC Public Relations
(212) 981-5209, (212) 981-5231
callie_burrows(at)dkcnews(dot)com, brett_gold(at)dkcnews(dot)com