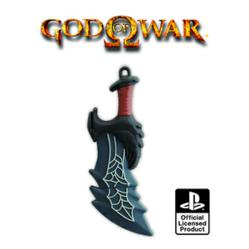 (PRWEB) April 10, 2012
Gamers now can wield their data in a manner that would make the gods proud.
Hipstreet's God of War USB drive, a PlayStation Official Licensed Product, is designed to replicate Kratos' Blades of Chaos , the warrior's preferred weapon in Sony Computer Entertainment America's ultra-popular God of War™ video game franchise.
The unique design of the device by Hipstreet, an emerging worldwide consumer electronics company, is sure to turn heads and bring knowing smiles of approval from fans of the successful action-adventure series.
With 8GB of memory, the USB drive is perfect for photos, game saves, music and movie files – anything that needs to be transferred, stored or shared. The USB features anti-shock technology, is moisture proof and is compatible with PlayStation®3, PCs and Macs. Owners will find it simple to use; just separate the blade then plug and play.
Hipstreet's God of War 8GB USB drive, which retails for $19.99, is available now online at Hipstreet.com, Gamestop.com and in Canada at Bestbuy.ca and Walmart.ca.
Sony's God of War™ series has appeared on numerous PlayStation systems since its debut in 2005 including PlayStation®2, PlayStation®Portable and PlayStation®3 and has sold more than 18 million units worldwide as of March 2012. The original God of War game for PlayStation®2 earned more than a dozen game of the year awards, and the franchise perennially earns critical acclaim.
Started in 2002, Hipstreet specializes in consumer electronics. Based in Ontario, CA, Hipstreet partners with more than 6,000 retail outlets throughout the world, with a focus on markets in North and South America as well as the Indian subcontinent. Hipstreet products are available at Hipstreet.com, through retail outlets, including online retailers, mass merchandisers, electronics superstores, office superstores, home-shopping networks, major distributors and independent retailers.
© Sony Computer Entertainment America LLC. God of War is a trademark of Sony Computer Entertainment America LLC.