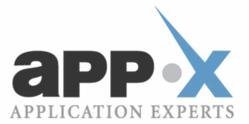 By helping us with our customer relationship management platform, App-X is extending our reach and making us more effective in providing important education and services. - Chanda Hinton Leichtle, founder and executive director, The Chanda Plan Foundation
Denver, CO. (PRWEB) April 10, 2012
Application Experts (App-X), a Colorado-based Benefit Corporation providing web-based software solutions AIM and PULSE for the alternative asset industry, announces its renewed support of The Chanda Plan Foundation, a Denver nonprofit working to improve the quality of life for people with physical disabilities through education and programs to access integrative therapies.
Since 2007, App-X has provided The Chanda Plan Foundation with annual consulting services to update and customize its Salesforce customer relationship management (CRM) platform. In 2012, App-X will donate more than $10,000 in services and assist Chanda with registration for its April 19 "People to Know" fundraiser in Denver. App-X also supports Chanda by attending the event, which will feature Aron Ralston, the hiker who survived a canyoneering accident in Utah in 2003 by amputating his right arm after his hand was pinned under an 800-pound boulder.
"The support and technical expertise we receive from App-X each year makes an enormous difference in our work on behalf of people with disabilities," said Chanda Hinton Leichtle, the organization's founder and executive director. "By helping us with our customer relationship management platform, App-X is extending our reach and making us more effective in providing important education and services."
Hinton Leichtle was 9 years old when she was accidentally shot in the neck, injuring her spinal cord and causing paralysis. By the time she turned 21, her health was in serious decline, and her weight had dropped to 59 pounds. With traditional therapies proving ineffective, she pursued alternative therapies that eventually helped her add back weight and regain her health. The turnaround inspired her to found The Chanda Plan Foundation in 2006 so others in similar circumstances also have access to integrative therapies such as acupuncture, massage, chiropractic care, cranial sacral and adaptive yoga.
"Through our Salesforce expertise, we have the resources and knowledge to help The Chanda Plan Foundation leverage its customer relationship management software for maximum benefit," said Kevin Kelly, App-X founder and chief executive officer. "The technology allows the organization to track individuals applying for grants seeking treatment, donors who support the organization, and performance data showing how the programs impact participants, which in turn supports fundraising pursuits."
App-X became a certified Benefit Corporation – or B Corp - in 2011 after proving its positive impacts on all of its stakeholders, including employees, customers, the community and the environment. The company also makes sustainable practices an integral part of its culture through a zero-waste office, composting and alternative transportation.
"App-X's work with The Chanda Plan Foundation aligns perfectly with our B Corp mission of doing good while doing business in software services for the alternative asset industry," Kelly said.
Since 2006, App-X's tech-and investment-savvy team has positioned the company as a trusted adviser delivering flexible software solutions including AIM, customized specifically to help fund managers track fundraising and investing, and PULSE, developed in partnership with today's leading social impact organizations to holistically measure social impact activities. As a result, App-X now has more than 70 clients worldwide who collectively manage over $80 billion in assets.
About Application Experts
Application Experts, LLC, (App-X) is the leading provider of flexible web-based solutions for Alternative Asset Fund Managers and Institutional Investors. App-X clients are leaders in the Alternative Asset Community with over $80 billion in assets under management. App-X is headquartered outside of Denver with offices in Chicago. For more information, visit the App-X website.
About The Chanda Plan Foundation
The Chanda Plan Foundation is a Denver-based nonprofit working to improve the quality of life for people with physical disabilities through education and programs to access integrative therapies, including acupuncture, massage, chiropractice care, cranial sacral and adaptive yoga, which can improve overall health and participation in life. Chanda's ultimate aim is to help persons with disabilities heal with their whole body. For more information, visit The Chanda Plan Foundation website