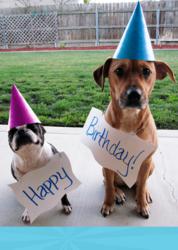 Greeting card design and writing hopefuls were invited to create hilarious birthday cards featuring a photo of a favorite four-legged pal.
Kansas City, MO. (PRWEB) April 09, 2012
Hallmark today announces the winners in its recent card-creation contest, "Fuzzy, Frisky and Funny." Greeting card design and writing hopefuls were invited to create hilarious birthday cards featuring a photo of a favorite four-legged pal. Entrants were encouraged to check out the Hallmark Contest Facebook page for tips on this contest.
Contestants submitted their creations in February. The 39 winning designs will be sold on Hallmark.com beginning April 9. In-store winners will be announced in June and will be featured in Kroger Stores starting in July. Winners each receive $250 and could win an additional $250 if their cards are chosen for in-store sales.
Hallmark judges looked for cards with funny photos and writing that worked well together and could be sent to many different people. Participants could enter a total of three different cards, one in each category – Birthday cards that are just freakin' funny, Birthday cards that find the humor in aging, and Birthday cards that would make your mama blush.
This is Hallmark's 31st consumer-created card contest. The 39 winners are from 20 different states and two providences of Canada. Here are the winners in Hallmark's "Fuzzy, Frisky and Funny" competition:
Andrea Auletta
Fullerton, Calif.
Karen Berry
Connersville, Ind.
Veronica Biazo
Wheeling, Ill.
Lisa Carlson
Kahului, Hawaii
Diana Christian
Asheville, N.C.
Jessica Cockrum
Trotwood, Ohio
Lisa Crisafi
Trinity, N.C.
Dawne Doyle
Los Fresnos, Texas
Melanie Elmore
Tupelo, Miss.
Shani Fassbender
Coopersburg, Pa.
Marianne Fosnow
Tega Cay, S.C.
Thomas Fosnow
Tega Cay, S.C.
Piper Fountain
Lansing, Mich.
Starr Himmel
Moscow Mills, Mo.
Marcy Holton
Sanford, Fla.
Stephanie Jamiolkowski
Allentown, Pa.
Corrie Kirk
Saskatchewan, Canada
Michael Kramer
Aurora, Ill.
Anne Lachapelle
Leeds, Maine
Jill Lanford
Florence, S.C.
Paige Langley
Kingwood, Texas
Debbie Lindner
Melbourne, Fla.
Marty Maynard
Marshfield, Mo.
Christine Mederos
Ledgewood, N.J.
Kimberly Murray
Livonia, Mich.
Stephanie Ng
Ontario, Canada
Carly Ninemire
Omaha, Neb.
Toni Nuttall
Saylorsburg, Pa.
Rebecca Odle
Marion, Ill.
Summer Ruegger
Boring, Ore.
Carol Schroeder
Cincinnati, Ohio
Melissa Soto
Wingdale, N.Y.
Lauren Stephens
Hanford, Calif.
Susan Sweeney
Pittsburgh, Pa.
Lisi Szymczyk
Charlotte, N.C.
Jinger Titus
Wichita, Kan.
Elizabeth Willan
Egg Harbor Township, N.J.
Woody Woodruff
Huntington Beach, Calif.
Tiffany Young
Mesa, Ariz.
Also today, Hallmark announces the opening of the latest card competition – "All About Teens." Consumers are invited to create a sweet or funny birthday or Valentine's Day card to let a teen know he or she is loved. Cards can be specifically for a girl teen, a guy teen, or can work for either. Submissions will be accepted through April 22.
Hallmark, the leader in greeting cards, strives to make products as relevant to as many people as possible. For more information or to submit a card, visit Hallmarkcontests.com. You can also follow Hallmark on Facebook at http://www.facebook.com/Hallmark and on Twitter at http://www.twitter.com/hallmarkpr.
About Hallmark Cards, Inc.
Hallmark makes the world a more caring place by helping people express what's in their hearts and spend time together – a privilege few other companies in the world enjoy. Hallmark greeting cards and other products are found in more than 38,000 retail outlets in the United States, including the network of flagship Hallmark Gold Crown® stores. The brand also reaches people online at Hallmark.com and on television through Hallmark Hall of Fame original movies and cable's top-rated Hallmark Channel. Worldwide, Hallmark offers products in more than 30 languages available in 100 countries. This privately held company is based in Kansas City, Mo., and is led by the third generation of the founding Hall family. Visit http://corporate.hallmark.com for more details.