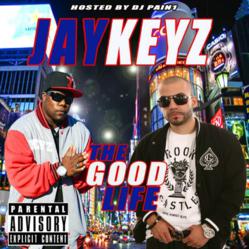 Miami, FL (PRWEB) April 09, 2012
Hip hop artist JaykeyZ recently released his mixtape "The Good Life Vol. 1." Presented by Coast 2 Coast Mixtapes and hosted by DJ Pain 1, it is now available for free download. "The Good Life Vol. 1" features a number of freestyle and remix tracks, including "Hard In The Paint Rmx.," "This Moment Freestyle," "Beamer, Benz, Bentley Freestyle," and "Take Ya Shirt Off Rmx." The project also features JaykeyZ original tracks.
JaykeyZ has been on the grind since 2006, which was his release from active duty military. The producer, singer, songwriter, and rapper sees himself mostly as an entertainer who is a master at his skill. He has worked in groups as both an artist and producer, though he soon decided it was best for him to go solo. JaykeyZ is currently producing for other artists, but also focusing on doing what it takes to get himself to the top.
Listeners can expect to hear a brand new sound and some brand new heat that has been burning inside of JaykeyZ. In addition to his music, he is currently working toward his degree in music at Norfolk State University, believing that education is the key to being successful. As a US Army veteran who has served numerous deployments, JaykeyZ also wants to start a charitable organization upon the success of his music career. "Veterans are the backbone of this economy, and often taken for granted," he says. "I want to give back."
DJ Pain 1 is a Madison-based producer (RIAA Gold-Certified), Violator All-Star DJ, Coast 2 Coast DJ, and educator. He has produced for artists ranging from Young Jeezy to Chuck D to Gucci Mane and has hosted a number of notable mixtapes. For information on beats, mixtape hosting, booking, interviews and panels, email: MP3 (at) djpain1.info.
"The Good Life Vol. 1" is available for free streaming and download at http://coast2coastmixtapes.com/mixtapes/mixtapedetail.aspx/jaykeyz-the-good-life-mixtape-vol-1