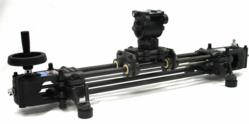 "Today the CPM Slyder Stage 1 arrived and I'm surprised how smooth the movement is!!! It is a really great table slyder!!! It's fantastic for filmmakers!"
Fred Feser
Bylyric Production
Lusby, Maryland (PRWEB) April 19, 2012
The new CPM DSLR Slyder Kit from CPM Camera Rigs is lightweight, portable and easily configured using components from existing rigs and gear. Built around the lightweight cinema standard 15mm rod diameter on a 60mm spacing, the rail portion of the CPM slyder is easily configured in a moments time utilizing aluminum, carbon fiber or any other 15mm rod.
Four versions of the CPM Slyder Kit are being introduced. There is a Basic Slyder Kit that utilizes the cinematographer's existing rods and camera mounts. A Stage 1 Slyder Kit includes the rods and mount. A Stage 2 Slyder Kit features a unique screw thread drive system, similar to those used on computer controlled cutting machines, a high helix drive screw, one revolution of the rod moves the camera one full inch of travel. The Stage 2 Kit includes this motion system in a hand crank version. The Stage 3 Slyder Kit takes advantage of the unique drive system with the addition of a stepper motor. The stepper motor provides an infinite speed setting, dimensionally controllable motion system, that will also be introduced as an add-on package to the recently released CPM Geared Head.
"In combination with a CPM Bulldog Rig, all you need is a Basic Slyder Kit and you are ready to be on location! With the minimum support gear it means a sput of the moment shoot is easy to set-up. You have your shoulder solution, if you break down the Bulldog you have a hand held rig and with the addition of the Slyder Kit you have a linear component to my shooting rig," according to Steven Moore from CPM.
CPM Slyder Kit highlights:
Lightweight DSLR Slyder based around the lightweight cinema standard system.
Utilizes cinematographers existing camera rig components, less gear for remote shoots.
Available in 24" and 36" lengths.
Utilizes a 360 degree nomial contact Teflon bushing system for outdoor shoot contamination.
Hand crank and motorized version with unique screw drive system for precision control.
Easily expanded. Compatible from Stage to Stage adding components.
Concepts and engineering to prototypes, tooling and final production, all aspects of manufacturing are performed under a single roof from CPM's operations center in Lusby, Maryland.