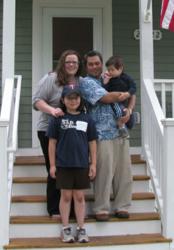 It shows how much the Twins care about the community they play in.
Minneapolis, MN (PRWEB) April 10, 2012
Twin Cities Habitat for Humanity has a new partner with plenty of lumber – the Minnesota Twins.
"We're thrilled that the Twins are joining us in our mission to eliminate poverty housing from the Twin Cities," says Susan Haigh, CEO and President of Twin Cities Habitat. "It shows how much the Twins care about the community they play in."
This new partnership will be in full swing during the Twins Hope Week from June 10-16, 2012. During Hope Week, current and former Twins, and team personnel, take part in several charitable events. This year that includes working on a Habitat home for a hardworking, low-income family.
Twin Cities Habitat volunteers will also operate a kiosk on the concourse behind home plate at Target Field during the games on Tuesday April 11, Wednesday April 12, and Tuesday June 12. Fans will be able to get information on how to volunteer with Habitat and how to qualify to buy a Habitat home.
Twin Cities Habitat will get extra attention during the June 12 game against the Phillies. The team will recognize Habitat volunteers and families on the field before the game. A text-to-give campaign to support Twin Cities Habitat will be shown on the scoreboard. The Twins also donated 100 tickets to the game to thank Twin Cities Habitat volunteers.
On top of all this, the Twins organization has generously donated memorabilia items and "Twins experience packages" for Twin Cities Habitat to auction off at fundraising events throughout the year.
Twin Cities Habitat for Humanity volunteers build 60 local homes a year. Those homes are sold to hardworking, low-income families who've performed hundreds of hours of sweat equity and completed extensive homeownership training courses. Those families pay Habitat's unique 0% interest mortgage. Each year Twin Cities Habitat also does essential home repairs for 140 low-income homeowners, counsels hundreds of Minneapolis families on preventing foreclosure and advocates on behalf of affordable housing issues. For more information visit http://www.tchabitat.org.