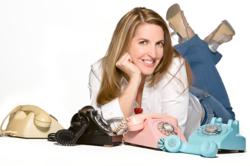 We feature Allison Smith, the voice of Digium. Our voices are clear, easy to use, and we service, service, service our clients and developers.
Pittsburgh, Pennsylvania USA (PRWEB) April 20, 2012
Cepstral http://www.cepstral.com has released its new selection of upgraded text-to-speech voices for telephony applications, created using its upgraded text-to-speech engine, Cepstral Version 6.0. For the past 10 years, Cepstral has been the voice of choice for discerning telephone system automation firms in Linux and Windows environments. Chosen by telecom and web apps as the most intelligible and personable voices for text-to-speech over the phone and internet, the new voice package includes barge-in functionality as well as clearer sound processing optimized for telephony equipment use. Users will notice increased voice clarity in telephony installations as well as significant improvements in breadth of lexicon coverage. The voices are clear and clean, especially the Allison voice – the voice of Digium telephony systems.
"There are over 1 million Asterisk telephony implementations," said Dan Bagley, Cepstral CEO, "and use of telephone automation and text-to-speech information is only increasing. Cepstral is known to many as the most friendly and well-supported TTS platform in the market. This upgrade is very significant for all of our telephony customers and partners."
What's new in Cepstral 6?
Cepstral 6 is our best Text-to-Speech engine yet. Cepstral 6 - Telephony Server is specifically tuned for use on telephony systems! Cepstral is the leading provider of TTS software for use with Asterisk(http://www.asterisk.org), and so Cepstral 6 was designed with Asterisk users in mind. Here are the new features of Cepstral Telephony Server:

Dramatically improved audio quality The audio in Cepstral 6 has been tuned for crystal clarity over a phone.
Optimized unit selection Cepstral 6 represents a breakthrough in predicting and protecting speech context. This results in more natural sounding speech with far fewer errors.
Ultra-smooth joins and natural prosody Cepstral 6 introduces a new algorithm for joining units that provides smooth and natural prosody.
Asterisk integration Audio has been level matched to Asterisk Prerecorded prompts, for seamless integration into an Asterisk IVR/PBX. The licensing system for concurrent synthesis has been completely revamped. It is more reliable and stable.
Cepstral voices are often the choice of many US small businesses, and the telephony VARs that help them set up their systems. But robotic voices are out, and Cepstral's personality voices are in. Text-to-speech is not new – but Cepstral has taken a different approach than others. "Big firms set out to replace human interactions – like having balances or flight times read to you, so they don't have to speak to you. Our voices are people – and they engage!", Bagley says. Cepstral voices are principled on the notion that voices should be personalities like the person you meet at the coffee shop or on an airplane. Can a company and a person talk together?
"This year Cepstral was awarded its first patent on a technology that enables custom voice development on a large scale," says Patrick Dexter, Sales Director at Cepstral. "We can capture the speaking voice of a music artist or even a movie star from an earlier time. With our 6.0 release, this gives banks, bars, airlines and other businesses a significant branding opportunity connecting their internet recorded experience with the telephone they interact with, too. "
Cepatral - "We make the internet talk."