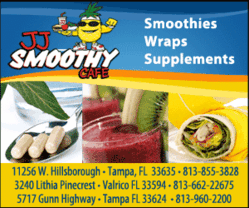 Tampa, FL (PRWEB) April 10, 2012
JJ Smoothy has been in business for over ten years specializing in healthy products that contain low sugar/low fat and higher protein contents than most competitors. All three locations cater to a clean and healthy lifestyle with fitness drinks, smoothies, wraps and supplements.
JJ Smoothy is this month's featured member of the NALA, a business association providing tools for local businesses to thrive in their communities. In addition to providing marketing for their members, the NALA, provides a platform for their members to be able to support non-profits throughout the year. JJ Smoothy proudly supports the NALA's current non-profit, International Crisis Aid.
About JJ Smoothy
JJ Smoothy has been in business for over ten years and specializes in smoothies, wraps and diet and performance supplements.
About NALA™
The NALA (National Association of Local Advertisers), a small business association, is for local business owners offering new online advertising & marketing tools, great business benefits, education and money-saving programs, as well as a charity program.
Contact: JJ Smoothy
Gerry Christie
813.960.2200
http://www.thenala.com/directory/jj-smoothy
Contact: the NALA
Tiffani Tendell
805.650.6121
press(at)thenala(dot)com