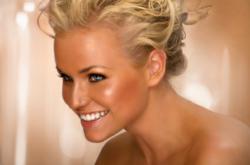 tanning products that help achieve the same desired tanning results minus the damage caused to skin.
(PRWEB) April 10, 2012
TheBeautyPlace.com offers a selection of professional skin care products to help their clients achieve a sun-free healthy glow. The consultants of the online retailer believe tanning booths and sun bathing are unsafe and unhealthy choices when tanning. They recommend best-selling tanning products that help achieve the same desired tanning results minus the damage caused to skin.
Rebecca, the lead consultant of TheBeautyPlace.com states the best-selling sunless tanning product is Tan Towel. Tan Towel is a self-tanning product where a towelette is concentrated with a clear tanning solution. The towelette is to be used in a circular motion over all areas where color or a tan is to be developed. A tan begins to develop within 3 - 4 hours and may continue to develop up to 6 hours later. The results typically last 4 - 7 days and extending the duration of a tan can be achieved with the use of moisturizer. "Tanning with Tan Towel is fast and easy plus very safe. You can get a nice glow or a deep tan depending on the formula you prefer. If a client of mine must tan, I recommend this sun-free method to avoid wrinkles and dark spots," said Rebecca.
Another sunless tanning product available at TheBeautyPlace.com is Perricone MD No Sun Tanner. It is the newest and fast-selling skin care product in the online retailer's selection. The self-tanning works to achieve a natural looking tan while providing anti-aging benefits by firming and tightening skin. It promises to deliver intense moisture and nourish skin with pro-Vitamin D. Rebecca said, "this tanning formula takes it to the next level by helping to prevent and reduce age spots. It's a great moisturizer and increases skin's elasticity and firmness." It is to be applied once a day for 7 to 14 days until desired tan is achieved. The self-tanning formula is pumped from a bottle for convenience.
The newest and most requested tanning product is Luminess Air Tanning System. A primary ingredient in the tanning solution of this product works with the amino acids in the top layer of skin to produce a natural-looking tan. A precision stylus instrument a little larger than the size of a pen allows for a smooth and flawless application. A few drops of the tanning solution are used. The desired tan is noticeable in about 3 to 4 hours and results last up to weeks. Rebecca stated, "the airbrush tan is the most practical of all tanning systems. A flawless tan with no streaks is what we all want and you can get that glow or deep tan with Luminess Air in the privacy of your home. That's why this tanning system has become a customer favorite. "
TheBeautyPlace.com is a leading online retailer of professional beauty products for hair and skin care needs. Find some of the industry's top beauty brands at extremely competitive prices. Hair products offered by TheBeautyPlace.com range from professional flat irons to products for hair loss. Quality skin care products address skin concerns from anti-aging to acne-prone skin.
Follow TheBeautyPlace.com
On Twitter: @TheBeautyPlace
On Facebook: Facebook.com/pages/TheBeautyPlacecom/125435188536?ref=ts
TheBeautyPlace.com Blog: http://www.blog.thebeautyplace.com
# # #