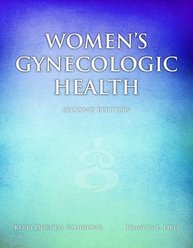 "Love it, love it, love it."
- Jane F. Houston DNP, CNM, UF College of Nursing
Burlington, MA (PRWEB) April 10, 2012
Jones & Bartlett Learning, a division of Ascend Learning, proudly presents Women's Gynecologic Health, Second Edition, a comprehensive text that equips students and practicing clinicians with a strong foundation in women's gynecologic health, including health promotion, maintenance, and treatment. Based on the most recent research, the authors provide authoritative content written from a feminist perspective to convey a holistic approach to care.
Completely updated and revised, this second edition includes four new chapters on diagnosis of pregnancy at the gynecologic visit, women's health after bariatric surgery, sexual assault, and urinary tract infections. In addition, the chapter on gynecologic health care for sexual and gender minorities has been expanded to include care not only for lesbians, but also for women who are bisexual or transgender.
Key Features Include:

Clinical considerations specific to the different physical and psychosocial life stages of women
Emphasis on physiologic mechanisms in order to enhance understanding of normal and abnormal processes
Evidence-based content
Applicable for both students and practicing clinicians
New color insert
About the Authors
Kerri Durnell Schuiling, PhD, NP-BC, CNM, FACNM, FAAN, Professor and Dean, Oakland University School of Nursing; Co-editor-in-Chief, International Journal of Childbirth
Frances E. Likis, DrPH, NP-BC, CNM, FACNM, Investigator, Vanderbilt Evidence-Based Practice Center, Institute for Medicine and Public Health, Vanderbilt University Medical Center, Editor-in-Chief, Journal of Midwifery & Women's Health
To order or request a review copy visit: go.jblearning.com/Schuiling
About Jones & Bartlett Learning
Jones & Bartlett Learning, a division of Ascend Learning, is a world-leading provider of instructional, assessment, and learning-performance management solutions for the secondary, post-secondary, and professional markets. Jones & Bartlett Learning develops educational programs and services that improve learning outcomes and enhance student achievement by combining authoritative content written by respected authors with innovative, proven, and engaging technology applications that meet the diverse needs of today's instructors, students, and professionals. For more information, visit http://www.jblearning.com.