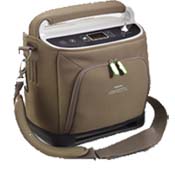 Houston, Texas (PRWEB) April 10, 2012
Sleep Restfully, Inc of Houston, Texas has been supplying the SimplyGo Portable Oxygen Concentrator since its introduction by Philips Respironics 3 weeks ago. Many believe that this work horse portable oxygen concentrator will take over the portable oxygen market. With its ability to provide up to 2 liters per minute of continuous flow oxygen and up to a level of 6 on pulse dose at a weight of only 10 pounds the SimplyGo Portable Concentrator is the clear choice for the oxygen patient on the go.
As people became more mobile, it became apparent that a better way was needed to provide portable oxygen other than through a tank system. To answer that need manufacturers developed Portable Oxygen Concentrators or POC. Today, you can find Portable Oxygen Concentrators manufactured by Phillips Respironics, SeQual, Inogen, Devilbiss, O2 Concepts and Invacare. With the development of the Portable Oxygen Concentrator, you are no longer tied to your tanks; SIMPLY plug in your Portable Concentrator and you are free to GO where you want. Most portable oxygen concentrators have been approved by the FAA for use on commercial aircraft.
The SimplyGo Portable Oxygen Concentrators can be plugged into a vehicle's DC adapter, a AC outlet and will run on battery power. It will also work on dual voltage meaning that anywhere in the world you travel your SimplyGo Portable Oxygen Concentrator will work. The battery life is dependent on whether the SimplyGo is dispensing oxygen by pulse dose mode or continuous flow mode.
The SimplyGo Portable Oxygen Concentrator comes complete with a handsome carry case which can be worn on your shoulder, a wheel cart, AC adaptor, DC adaptor, accessory bag,1 battery and a standard 2 year warranty. Additional batteries and an extended warranty up to 5 years are also available.
Sleep Restfully, Inc. has been approved by Philips Respironics as an Authorized Internet Dealer for the SimplyGo Portable Oxygen Concentrator.
Sleep Restfully, Inc. prides itself on the high quality customer service it provides to Sleep Therapy and Oxygen customers. Their slogan, "We may not be able to match everyone's price but no one can match our service" is exemplified by their Better Business rating of "A". They carry a complete line of sleep therapy equipment and supplies by ResMed, Philips Respironics, Fisher & Paykel and other manufacturers. In addition to CPAP machines and CPAP supplies, Sleep Restfully is your portable oxygen concentrator specialist offering the best prices and support for portable oxygen concentrators such as the Respironics SimplyGo, Respironics EverGo, Sequal Eclipse 3, Inogen G2, Invacare XPO2 and more. They also sell stationary oxygen concentrators such as the Philips Respironics EverFlo and Invacare Perfecto.
In addition, Sleep Restfully stocks all replacement parts for the CPAP machines and CPAP mask as well as replacement parts for all portable oxygen concentrators.
Sleep Restfully, Inc. can be contacted toll free at (866) 923-2727, or by visiting their website sleeprestfully.com.