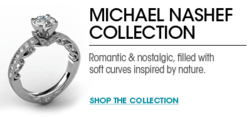 We created these romantic designs with matching wedding bands that fit perfectly flush with these inexpensive engagement rings for the perfect look of elegance and modern sophistication
(PRWEB) April 10, 2012
Diamond Nexus recently launched the Intersecting Hearts Collection. Now, the collection will be expanded with matching designer wedding bands.
"The Michael Nashef collection showcases engagement rings in styles inspired by nature. We created these romantic designs with matching wedding bands that fit perfectly flush with these inexpensive engagement rings for the perfect look of elegance and modern sophistication," stated Gary LaCourt, CEO.
The Intersecting Hearts design was originally inspired by the engagement ring that Nashef designed for his wife's engagement ring. The uniting of two hearts, which overlap and resemble two budding leaves create a blossoming look that stands as a metaphor for the lifelong commitment of love between a couples.
"Releasing matching bands for our latest collection has been something we have been extremely excited about at Diamond Nexus. Customer response to these new styles has been extremely positive. So we know that everyone is going to be thrilled to see what the matching bands look like," commented Jennifer London, Social Media Coordinator.
"I invite everyone to visit us on Facebook at http://www.facebook.com/DiamondNexus to share their opinions on the new rings and bands, and let us know what they think. It is a great way to hear what customers love about the new designs and where they might want to see us expand with upcoming designs as well," London said.
The Intersecting Hearts Collection from Diamond Nexus can be viewed at this link: http://www.diamondnexus.com/michael-nashef-collection
Diamond Nexus was founded in 2004 with the purpose of bringing to the public the powerful benefits of the lab-created diamond simulant revolution. They have over 250,000 customers worldwide that have awarded them an "A+" rating with the BBB, and are the ninth largest online jewelry retailer in America according to the 2011 IR500 list. For two years in a row brides from The Knot have selected them as their Best of Jeweler. Diamond Nexus currently has two retail locations: their flagship store at Woodfield Mall in suburban Chicago, Illinois, and a second store at Mayfair Mall in Milwaukee, Wisconsin. In 2009 the company was named the official jeweler and crown maker of the Miss Universe Organization as part of NBC/Universal's "Green is Universal" environmental initiative.