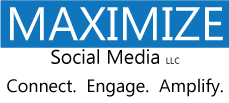 Pinterest is creating a huge buzz and frankly its growth has caught many social media managers by surprise," said Chris McLaughlin, CEO of Maximize Social Media LLC
Los Angeles, CA (PRWEB) April 09, 2012
Social media agency Maximize Social Media LLC is pleased to announce that it will host a tutorial webinar on Pinterest for business this week with a focus on obtaining traffic from Pinterest for businesses. The webinar will be held this coming Wednesday, April 11, 2012 at 2 PM ET, 11 AM PST.
Pinterest's traffic is reported to have edged out LinkedIN in unique users visiting the site in March of 2012, and is now considered the third most popular social network behind Facebook and Twitter. This explosive growth has captivated the minds of marketers, many of whom are now asking the question: How can we monetize the tremendous traffic that Pinterest in capturing?
The Maximize team will tackle that question and more on its upcoming webinar. Business owners and social media managers are encouraged to attend the no cost webinar by registering at http://www.PinterestWebinarTraining.com.
Among the many discussion topics will be:
Traffic & SEO: Are businesses that are interested in getting more "do follow" links for SEO purposes still able to use Pinterest to do so? The Maximize team answer that question as well as offering tips on how to increase traffic to a brand's own website from Pinterest.
Demographics: Pinterest appeals to college-educated females between the ages of 25 to 44. Maximize will review how brands can tap into these powerful demographics to boost the brands' following on Pinterest.
Crowdsourcing: Crowdsourcing, which occurs when a business outsources a task to the public as opposed to outsourcing to a certain contractor, can be extremely effective with Pinterest. Maximize will discuss how to best utilize crowdsourcing with Pinterest.
Brand Type: Without a doubt brands that offer products that are easily visualized and photographed have an edge with Pinterest, but the Maximize team will review other businesses that can benefit from Pinterest.
"Pinterest is creating a huge buzz and frankly its growth has caught many social media managers by surprise. There are so many unanswered questions about how businesses should approach this opportunity that we decided to hold this webinar to review best practices. We invite business owners and social media managers to join us for this upcoming tutorial and help us raise the bar," said Chris McLaughlin, CEO of Maximize Social Media.
About Maximize Social Media LLC
Maximize Social Media (http://www.maximizesocialmedia.com) is a social media agency that provides management services for clients in over 40 different verticals. With offices in Florida and Los Angeles, Maximize offers social media consulting and Facebook advertising management for clients in English speaking countries such as the US, Canada, and Australia. The company also features social media management outsourcing for busy social media mangers looking for additional assistance on a white label basis.