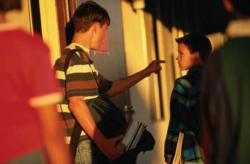 Our company has brought in some of the leading experts on bullying intervention to help create a series of professional development videos that instruct educators in strategies for stopping bullying at school
Salt Lake City, UT (PRWEB) April 10, 2012
Stopping bullying at school has always been a challenge, more so now than ever. Finding solutions to the bullying problem isn't easy, but for educators willing to look, there is help.
"There's good reason that we're hearing about bullying now more than ever," says Chet Linton, CEO of PD developer School Improvement. " Studies show that with the advent of the Internet, incidents of bullying at school are on the rise. That's why our company has brought in some of the leading experts on bullying intervention to help create a series of professional development videos that instruct educators in strategies for stopping bullying at school."
The videos, which are now available on PD 360, School Improvement Network's premier online professional development platform, describe:

How to identify the characteristics of students who are vulnerable to bullying at school
How to identify the characteristics of students who tend to act out as bullies
Key factors in cyber bullying
Top ten strategies to stop bullying at school
To learn more about how to stop bullying at school, visit http://www.schoolimprovement.com and sign up for a free 30-day trial of PD 360.
About School Improvement Network
Founded in 1991 by teachers, School Improvement Network provides comprehensive, research-based professional development anytime, anywhere. As the home of The Video Journal of Education, PD 360, Observation 360, the Learning 360 Framework, Equity 360, and Common Core 360, School Improvement Network resources focus on the most relevant topics, feature the top experts, and show educators how to put theory into practice. School Improvement Network works with thousands of schools and districts in every state and around the world and has visited over 3,500 classrooms to document best practices in action. Learn more at http://www.schoolimprovement.com.
###
School Improvement Network, PD 360, and their respective logos are trademarks of the School Improvement Network. All other trademarks and registered trademarks are the property of their respective owners.
Press Contact:
Duane Sprague
School Improvement Network
801-758-9546
duane.sprague(at)schoolimprovement.com