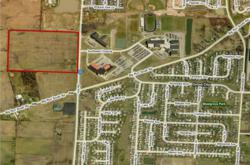 The inventory levels of similar land is high, but when a seller such as this bank steps up and sets a minimum bid well below market value, it's hard for buyers to ignore
Newport Beach, CA (PRWEB) April 11, 2012
This real estate auction, featuring a development site of approximately 43 acres, sits on the westerly side of Grove City, which is considered one of the faster growing suburbs of the City of Columbus. About 8 miles southwest of the Columbus Central Business District, this development site is located directly across from the Central Crossing School Complex (Central Crossing High School and Holt Crossing Intermediate School) and South-Western Career Academy near the intersection of Holt Road and Big Run South Road.
The zoning on this bank-owned property is split; CPD (Commercial Planned Development) for the frontage and multi-family for the rear portion, affording itself to a unique development opportunity of retail shopping and apartments or condominiums.
Attracting much interest from local homebuilders, developers and real estate investors, the online auction on the Freedom Realty Exchange (FRE.com) delivers a fair and competitive online bidding process which will bring true market value to the property and the seller.
"The inventory levels of similar land is high, but when a seller such as this bank steps up and sets a minimum bid well below market value, it's hard for buyers to ignore", states Ryan Devin with the auction company.
As an alternative choice to a traditional real estate sale, online auctions can be particularly effective for financial institutions that want to, or need to, get the inventory off their books quickly and believe that the auction creates a trading platform bringing buyer and seller together in such a way that fair market value is realized. Evident by the minimum bid of $499,000, less than $12,000 per acre, the bank is very motivated to sell.
"We have had a good response from interested parties, mostly local builders and investors, but also some from out of state, who see the upside in purchasing at a discount, waiting until the market turns and then being in a great position to take advantage of it", states Devin.
As with all of auctions on the Freedom Realty Exchange website, property research, due diligence and bidding are conducted completely online, removing the inconvenience and unwanted pressure that comes with a traditional outcry auction. Interested buyers can access property documents and auction details by visiting FRE.com/123R2. Bids must be submitted by April 26th.