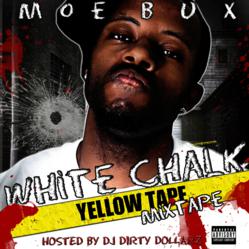 Miami, FL (PRWEB) April 10, 2012
Rap artist Moe Bux recently released his single "Breakin Bands." Currently a Coast 2 Coast Priority Track, it is now available for free download. "Breakin Bands" appears on his mixtape "White Chalk Yellow Tape," hosted by DJ Dirty Dollarz.
Moe Bux was born on the Southside of Houston, TX in 1985. Raised in a single-parent household with the ambition to never settle for less, Bux's family nevertheless struggled to stay afloat. By the age of 12, Moe Bux was working in his family-owned business, from which he was able to buy his own school clothes and help his mother with the bills. As the years passed, he grew into a self-motivated young man who never took life as a game. With his grandfather and uncle as mentors, he strived for nothing short of excellence. In 2004, one year after graduating from high school, Moe Bux picked up a pen with the intention of expressing the untold story of his life through poetry.
Not long after he began writing, reminiscing on his past, Bux's poetic flow became a rhythmic flow that started to impress audiences. From that time, he began his music career, performing with Houston legends Lil Keke, Big Moe, ESG, Hawk, Big Pokey, and more. He would go on to do shows with J. Holiday, Duffle Bag Boys, and OJ Da Juiceman. By this time, he was working on his mixtape, "Say No More," and he received a call from Atlanta to perform along with Young Joc—a sign for him that he should never give up on his dream and pursuit.
"Breakin Bands" is available for free download at http://hulkshare.com/m0qyayyv3sos