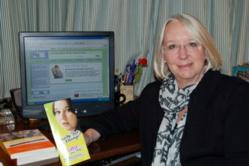 Do not let a child feel bad about themselves. Be supportive.
New York, NY (PRWEB) April 11, 2012
In response to the national debate sparked by the recent article in Vogue Magazine, "Kitchen Controversy: A Mom Fights Childhood Obesity At Home," by Dara-Lynn Weiss, fitsmiForMoms.com, a web community for parents of overweight children, shares its top tips with parents.

Weight loss alone does not automatically translate to short- or long-term physical, mental or emotional health.
A doctor should help a parent understand whether their child is overweight or merely on a normal growth curve for their age and body type, i.e. will they have a growth spurt and grow out of it? Have they always been at a relatively higher weight than their peers and is this a healthy norm for them?
If you need to take action, work under the guidance of a doctor or certified nutritionist. Getting the help of a dedicated professional can take the pressure off of parents trying to figure it out for themselves.
Do not let a child feel bad about themselves. Be supportive. Feeling better leads to empowerment to do the right things.
Be a role model. When our children see us eat right and exercise, they have a better chance of gravitating towards good habits themselves.
Never embarrass a child – especially publicly – with any comments about their weight or food choices.
Don't single out your overweight child for special foods or smaller portions than the rest of the family. Ideally the whole family should be eating the same healthy diet.
While parents can control the food environment of younger children more successfully, older children and teens really need to "opt in" and commit to better health on their own.
"Parenting isn't easy and parenting a child who struggles with their weight is difficult. Many parents are in the position of trying to help their child on their own for many reasons, including protecting their child from being taunted about their weight," said Linda Frankenbach, CEO and founder of fitsmi.com and fitsmiForMoms.com. "But no one should go it alone. Working together on solutions is key because in our desire to help our kids, we often make mistakes. Together we can come up with positive strategies for lifelong health."
fitsmi.com is a web community where teen girls (ages 13-18) struggling with their weight can go to feel good about themselves, get reliable information, laugh, build friendships, find support, set goals and stay on track by using fitsmi.com's Change Machine. fitsmi's Change Machine, and the mobile version, fitsmi2Go, was designed to help girls create personal daily attainable goals that help create positive healthy and sustainable change, as well as to be a social network where girls can support each other. Follow fitsmi.com on Facebook and twitter (@fitsmi).
fitsmiForMoms.com, a web community for parents of children struggling with their weight, is a separate companion site to fitsmi.com. fitsmiForMoms.com offers support, information and guidance to help parents make healthy choices for their children and to help them through the challenges of having an overweight child. Follow fitsmiForMoms on Facebook and twitter (@fitsmiForMoms).