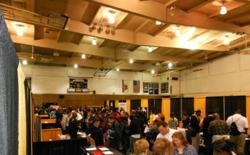 This was a great opportunity for people to meet face-to-face with employers about job openings, as well as to learn about other paths to success, like starting your own business." --Assembly Member Mary Hayashi
Hayward, CA (PRWEB) April 10, 2012
Over 1,000 participants attended a free job fair hosted by Assembly Member Mary Hayashi (D-Hayward) on April 3, 2012. Co-sponsored by the Chabot College Career and Transfer Center, the event provided opportunities for job-seekers to talk with potential employers from state government agencies and leading Bay Area public and private sector companies. The fair also offered training on resume writing and how to start a small business.
"I would like to thank Chabot College and all the participating employers for making this event possible," stated Assembly Member Mary Hayashi. "This was a great opportunity for people to meet face-to-face with employers about job openings, as well as to learn about other paths to success, like starting your own business."
Some of the Bay Area's leading companies participated in the job fair including Caltrans, CBS – Channel 5, Farmers Insurance, Fremont Bank, Lowe's Home Improvement, Patelco Credit Union, the San Jose Police Department and Sutter Health.
In addition to the face-to face meetings with company representatives, the fair offered information on how to start a small business. Small businesses provide working families with another vital avenue for success in today's job market. The Governor's Office of Business and Economic Development reported that there are 4 million small businesses in California, representing the largest network of small employers of any state and serving as a driving force for the state's economy.
Assembly Member Hayashi is the Chair of the Business, Professions, and Consumer Protection Committee and serves the 18th Assembly District, which includes San Leandro, Hayward, Dublin, most of Castro Valley and Pleasanton, and a portion of Oakland, as well as the unincorporated areas of Ashland, Cherryland, San Lorenzo and Sunol.