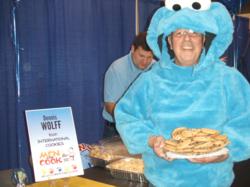 Joliet, IL (PRWEB) April 10, 2012
Last month longtime Bill Jacobs Joliet employee and sales associate, Dennis Wolff, participated in the fourth annual Men Who Cook fundraiser to benefit the Will County Children's Advocacy Center. Bill Jacobs Joliet, one of the leading Joliet, IL Chevy dealerships, proudly sponsored Dennis in this great cause that he has a strong passion for. The event was held at the Pipefitters Local #597 Training Center in Mokena, IL and was a huge success.
Dennis "Cookie Monster" Wolff, is a board member of the Will County Children's Advocacy Center chaired by the Center's founder, Will County State's Attorney, James W. Glasgow. The "Cookie Monster" name comes from the character he portrays during the event, while he cooks and offers a selection of cookies. Dennis dresses up as the Sesame Street character, Cookie Monster, and hands out cookies from his "international cookie selection", which includes Italian, Polish, Greek and American cookies.
For the past for years, the Child's Advocacy Center has sponsored the "Men Who Cook" benefit. The event has men from all walks of life and professions come together to offer their culinary specialties for an evening. There are entrees, appetizers and desserts that are all specialties of the cooks. The event benefits the Will County Children's Advocacy Center, which relies heavily on donations due to a limited budget.
The Child Advocacy Center has been available to children and law enforcement for 17 years. It is staffed by specially trained professionals, who investigate, verify and then prosecute predators who prey on children. The criminals who are prosecuted commit heinous crimes and unfortunately, this is a vital center for the county. The donations taken for the event help ensure that the advocacy center continues in the community for as long as is necessary.
Bill Jacobs Joliet is proud to sponsor the faithful employee, Dennis "Cookie Monster" Wolff, at this event that he is so passionate about. Bill Jacobs' donation helped to make the event a success and will allow the Children's Advocacy Center to continue its vital program.
Bill Jacobs Joliet offers a wide selection of Chevy in Joliet, IL. They also have many used cars in Joliet, IL for customers to choose from. For more information on the dealership, please visit http://www.billjacobsjoliet.com or call (866) 301-2106.