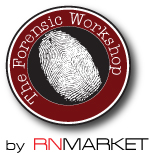 Las Vegas, NV (PRWEB) April 10, 2012
Nurses, medical professionals, and anyone else interested in a career in Forensics will earn their Certified Forensic Criminal Evidence Analyst (FCEA) certification upon completion of The Forensic Workshop by RN MARKET. The next event has been scheduled for June 23-24, 2012 at the Bellagio Hotel and Casino. This beginner Forensic Workshop is perfect for those with no nursing or forensic experience, Legal Nurses who would like to add this training to their case analysis skills, those working for or who want to work for departments and agencies using forensic analysis, or those who would like to specialize in forensics. Legal Nurses benefit from this training because it is a great addition to the services offered to their clients. In addition to medical record analysis, Legal Nurses can now offer forensic analysis of any crime scene evidence or data involved in a case. If interested in specializing in forensics exclusively, this workshop provides a solid foundation for an in-depth forensic education. Register for this live seminar to gain the exciting forensic training you are looking for.
Call 866-933-2562 for more information or visit http://www.LNCSTAT.com/forensicworkshop.htm for more information and registration.