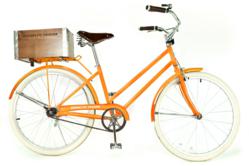 The uniquely New York style of Brooklyn Cruiser is a natural fit for our hotels and guests.
Brooklyn, NY (PRWEB) April 10, 2012
Commuter bike company Brooklyn Cruiser's new Driggs & Willow models will be available to guests at The Maritime Hotel, The Jane Hotel and Crow's Nest Hotel beginning in May and at The Bowery Hotel later this summer. The bikes are outfitted with an internal three speed Sturmey Archer hub, preconditioned leather saddle and grips, cream tires, and Brooklyn Cruiser's signature double top tube frame. The Maritime Hotel will offer Brooklyn Cruiser's new model in tangerine and The Jane Hotel will offer bikes in black. Additionally, each bike will be fitted with a hotel-branded wooden crate on the back. Bikes will be available to guests at no charge.
Currently, The Maritime, Bowery and Jane Hotels offer a fleet of bikes to their guests, but have decided to rejuvenate their current line of bikes with Brooklyn Cruiser city bikes, which more closely mirror the creative aesthetic of the hotels. The hotels' current bike fleet will be donated to Recycle-A-Bicycle, a community-based bike shop and non-profit organization that facilitates job training and environmental education.
"Our bike program has been hugely popular with our guests, and we're excited about upgrading our fleet to Brooklyn Cruisers," said Sean MacPherson, hotelier. "The uniquely New York style of Brooklyn Cruiser is a natural fit for our hotels and guests," he added.
"Sean and his team are synonymous with upper echelon lifestyle brands here in New York and nationwide," said Ryan Patrick Zagata, Founder of Brooklyn Cruiser. "We're truly honored to be partnering with them and we know their guests are going to love exploring New York City in style on our cruiser bikes," he added.
About Sean MacPherson and Eric Goode
Sean MacPherson and Eric Goode own and operate The Bowery Hotel (including Gemma restaurant and the Lobby Bar), The Jane Hotel and Ballroom, The Maritime Hotel (including La Bottega restaurant, and the Cabanas), The Park Restaurant, The Waverly Inn, and Lafayette House. Sean MacPherson owns and operates The Crow's Nest Hotel and Restaurant in Montauk. Unique among hoteliers in New York, MacPherson and Goode design, build out, and operate their own properties. Their holdings reflect an obsessive attention to detail and an appreciation of what makes travel experiences memorable. Their partners in The Jane include prolific hotel developers, Richard Born and Ira Drukier, who were responsible for NYC's successful The Pod Hotel among many others.
About Brooklyn Cruiser
Established in 2011, Brooklyn Cruiser mirrors the same iconic qualities of Brooklyn itself - accessibility, durability, and original style. The new three-speed edition of Brooklyn Cruiser dutch bikes will retail for $549. Bikes can be found at retail locations across the country or can be purchased online at http://www.brooklyncruiser.com. For more information, contact Ryan Patrick Zagata at info@brooklyncruiser.com or call (800) 631-0630. Brooklyn Cruiser is based in Williamsburg, Brooklyn.