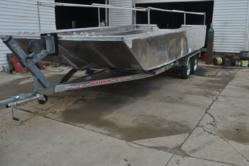 Go Anywhere! Anytime!
Lonoke, AR (PRWEB) April 11, 2012
Avid All Terrain Solutions are constantly looking for ways to save customers money on all their All Terrain boats or utv's. They just don't sell to hunters but also sell boats and utv's to farmers, ranchers, construction, universities, hospitals and doomsday preppers. They strive to create boats and mini trucks with multiple uses to cut down on needing more than one boat or utv's.
All Avid Mini Trucks come standard with 4x4, heat and A/C. Their inventories are Suzuki and Toyota with all manual transmissions. With new and used mini trucks onsite, Avid can definitely offer more than one mini truck. Avid offers container loads shipped to your business or home. Avid offers a full line off OEM parts and accessories such as snow plows seeders, winches and tracks. Avid Mini Trucks offer lift beds, and four door models that are great for customers needing to haul multiple people. Did I mention the great fuel mileage 42 to 48 mpg. Soon they are coming out with an all-electric mini truck. Come buy Avid's website http://www.avidallterrainsolutions.com and see their prices are almost half of standard utv's with more options standard.
Avid All Terrain Solutions' boats are awesome duck boats with an all new X Barge. The X Barge will come standard with ramps, and portable duck blind. The X Barge still has people coming up with different uses showing no limits to its possibilities. The X Barge will load disable hunters and utv's from the trailer or the ground. Bow Fishers and Duck Hunters will love the Avid X Barge. Avid boats are hull only pricing, call or email for trailer and motor pricing. Avid boats come with 5 year hull warranty made with .150 gauge marine grade aluminum and fully welded. Avid is a custom boat company and do not carry a large amount of boats in stock. Avid duck water boats punish the beaver dams and ice not you. Remember Go Anywhere Anytime!