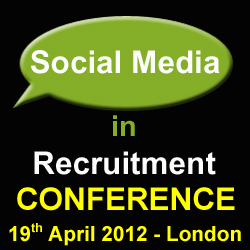 Delegates can learn more in a single day rather than spending months trying to work it all out for themselves
(PRWEB) April 10, 2012
The 2012 Social Media in Recruitment Conference takes place in London on the 19th April 2012,
Conference History
In the early days of social media, Recruiters spent hours of trial and error trying to figure out if social media could work in their company. That was because there were no conferences available and only a limited number of case studies to learn from at that time.
All that changed in July 2009 when Mike Taylor from Web Based Recruitment introduced the Social Media in Recruitment Conference. The conference was launched specifically to help educate Recruiters about the benefits of using social media in recruitment, so rather than struggling to work it out on their own, Recruiters could attend an event and learn from other Recruiters who had already taken action and successfully implemented social media.
2012 Conference
Almost three years later Web Based Recruitment are about to run their fourth conference on the 19th April 2012 in London. Once again they will offer a full programme to help Recruiters see what is possible to achieve using social media and how they can take their level of understanding to the next level.
"Up until the end of 2008 it would literally take days to find some evidence of how social media was being used successfully in recruitment" said Mike Taylor from Web Based Recruitment. "Today, our conferences include many examples of successful social media implementations and results. Plus, each year we invite a delegate back from a previous conference to share their own success story from what they learnt the year before, and how it has impacted their own business.
2012 Past Delegate Success Story
The past delegate success story for the 2012 conference will feature Success Appointments who went from virtually having no social media presence in April 2011 to becoming a market leader in their niche in less than nine months. "This is a great success story as Success Appointments managed to learn more in a single day at last year's conference than they had in previous months trying to work it all out for themselves.
This really does show the value in attending our conferences where you can learn from Recruiters who have already achieved success. Not only does it cut down your own research time but it can also give you a proven roadmap to follow" continued Taylor.
Conference Programme
You can download a PDF of the Conference Programme here
Exhibition Area & Sponsorship
In addition to the conference there is also an exhibition area where delegates will be able to talk to companies and see demonstrations of various social media related products and services. Any company interested in getting involved as a sponsor or exhibitor at the 2012 Social Media in Recruitment Conference should contact Mike Taylor through the conference website.