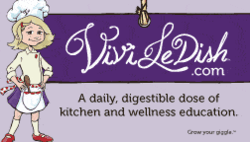 "Pick a day to try the program with the kids in your life. We guarantee you will share a giggle," says Jonelle Galuska, co-creator of ViviLeDish.com.
Chicago, IL (PRWEB) April 10, 2012
A new family and parenting website is on the scene to provide a daily, digestible dose of kitchen and wellness education targeted at children ages three to eight. ViviLeDish.com provides parents, caregivers, and teachers with a free resource for the critical years of development when there is the ideal opportunity to shape children's attitudes, preferences and habits regarding food and exercise.
Vivi LeDish™ is an aspiring chef and a champion for foodies and parents trying to instill their little ones with healthy habits. Vivi is excited about trying new foods and being active. Her adventures and the lessons she learns along the way are chronicled in her daily, interactive web site and books. ViviLeDish.com is a resource for anyone looking for creative and fun ways to make healthy habits a part of everyday life and spend a little one-on-one time with the kids they love.
"There are a lot of great nutrition sites out there, but ours is unique for three reasons," says Jonelle Galuska, company co-founder and CEO. "First, we designed this site to accommodate three to eight year olds. Second, our site encourages family interaction rather than taking away from it. Third, the recipes and activities accommodate the attention span of kids and the availability of parents and caregivers. It takes just minutes to get through each day's program, all packaged in the most mobile-friendly children's wellness site to-date. Our award-winning design has no flash and key features of the site are finger swipe-able."
Co-founder and Vivi LeDish character creator Nicki Mason is driven to keep things simple in all aspect of parenting, which inspired the creation of the website. "My experience raising three kids is that a little creativity goes a long way. We want parents to step away from those 14-step diagrams for constructing a dinosaur designed to disguise dinner and cater to a child's strongest asset, their imagination," she said.
ViviLeDish.com features the following assets for children and parents:
Giggle Grower™
This tool allows kids to log daily consumption of fruit, vegetables, calcium, protein, grains, sky juice (water), and reminds kids to never grow a day without a giggle™ (to feed their funny bone, of course).
Fridays with Vivi™
Fridays with Vivi creates a simple, fun, family ritual that is educational and encourages kids to try new foods (a great alternative to going out to eat). A subscription-based weekly e-newsletter announces the Food of the Week along with a child-friendly recipe and coloring page featuring the ingredient. Subscribers can access a downloadable certificate to celebrate and reward children for trying the featured food.
Food of the Week
Each week a new food is featured to educate and encourage kids to try new foods.
Vivi's Cookbook
This cataloged cookbook features child-friendly recipes using five ingredients or less, requires little to no cooking and teaches kids moderation by distinguishing between "sometimes" and "anytime" foods. Each recipe has a whimsical title designed to make a child feel like a true culinary connoisseur and features healthy, accessible ingredients and creative serving suggestions.
Recipe of the Day (the Daily LeDish™)
Each day Vivi features one of her favorite recipes. Each Sunday Vivi features a "sometimes" treat to teach kids that no foods are off limits in moderation.
Timer
A timer periodically reminds kids to go do something active, a feature that can also serve as a timekeeper for families with more children than computers!
Activity of the Day
A daily activity designed to Grow Your Giggle!™
Question of the Day
A simple question designed to teach children about moderation. Children click and learn!
Meet Vivi LeDish™
A FREE innovative, interactive, online book introduces children to Miss Vivi LeDish! Print and eBook versions are available at: Barnes & Noble, Amazon.com, iBookstore, Sony, Kobo.com, & Lulu.com.
Vivi's Pantry
Interactive A-Z library of foods and kitchen tools & terms.
My Stuff (for kids and parents)
Each child on the account will have their own room with their own stuff and receive the first invitation to all the latest and greatest games and promotions. Parents manage the accounts (password resets, set up, delete, etc.). Parents can view kids' stuff and progress in the Giggle Grower.
Mama LeDish Blog
A companion website for parents designed to address the reality we face today; an information superhighway full of conflicting opinions and research on parenting and wellness issues. This blog is not written by experts who claim to have the answers - but by real moms performing the balancing act everyday trying to sort through these issues with our audience.
"We strove to create a site that would feed kids' imaginations while teaching them healthy habits. ViviLeDish.com will help shape a healthy relationship with food, create interest in healthy snacks, teach portion control, help kids distinguish between sometimes and anytime foods, and create excitement about trying new foods. Pick a day to try the program with the kids in your life. We guarantee you will share a giggle," says Galuska.
The creative team behind Vivi LeDish has a lot planned for this junior chef. In the coming months, the team will expand the site to offer more options for personalization and educational games designed for kids to make a quick stop every day, then get back out and play!™ There is also an A-Z book series in the works that chronicles Vivi LeDish's foodie adventures with her magical apron pocket. The site will also expand resources for teachers, parents and caregivers.
ViviLeDish.com was created in partnership with Chicago-based 50,000feet, Inc., a creative firm renowned for clean, simple, and innovative technical solutions that provide a superior user experience. Their strategic input, creative collaboration and technology leadership in developing the platform for ViviLeDish.com, brand-building and online advertising syndication will allow the team to scale operations and ramp up features & functionality and introduce e-commerce as the audience grows.
The site attracted over 10,000 visitors during its beta testing period (Dec. 24, 2011 to March 31, 2012) and continues to grow daily.
For more information about ViviLeDish.com please contact Raymee Alper PR at 314-479-8099 or raymeealper(at)gmail(dot)com. To schedule an interview or feature artwork from ViviLeDish.com, please contact Jonelle Galuska at galuska(at)viviledelish(dot)com. To sponsor or advertise on the site, contact Lori Lynes at mediasales(at)viviledish(dot)com.