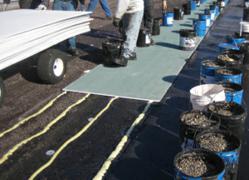 … with 45 percent rapidly renewable content, Insul-Lock E HR gives the building the maximum allowed green building credits
Canada (PRWEB) April 10, 2012
Garland Canada's new Insul-Lock® E HR roof insulation adhesive is a highly elastomeric, one-step, VOC-compliant, foamable adhesive that sets in minutes, and contains no solvents. It establishes a new industry standard for the incorporation of rapidly renewable content, with such content making up 45 percent of its formulation. Insul-Lock E HR adhesive provides all the benefits of a two-component urethane adhesive with none of the worries, featuring a unique packaging construction that eliminates the risk of improper mixing through the use of special static mixing nozzles.
Because it eliminates the need for deck penetrations and fasteners, Insul-Lock E HR adhesive leaves the deck intact, which lessens the possibility of structural damage and moisture entry while minimizing the disruption of interior operations. This prolongs the life of the waterproofing system, and also eliminates potential thermal bridging. Its low odor makes it an ideal fit for schools, hospitals, and all environmentally conscious facilities.
Insul-Lock® E HR adhesive bonds to a large variety of substrates, including structural decks, approved base sheets, insulation board layers, and properly prepared graveled surfaces. To prepare surfaces that are heavily oxidized, a special water-based primer is available, Insul-Lock® HR Universal Primer.
According to Charbel Boulos, P.Eng., general manager of Garland Canada Inc., "This is really a winning product. The application is quick and easy, with no mixing. Another benefit of Insul-Lock E HR is that it sets in minutes, over a wide range of temperatures. Also because of its low odour and lack of VOC's, there is no disruption to the facility from harmful vapours. Finally, with 45 percent rapidly renewable content, Insul-Lock E HR gives the building the maximum allowed green building credits."
Insul-Lock® E adhesive is packaged in 1.5 L cartridges, four to a case. It can be applied using a variety of pneumatic or battery-powered, single- or multi-bead applicators. For smaller projects, ultra-portable manual applicators are also available. Once insulation has been placed into freshly applied adhesive, there is a sufficient bond to support foot traffic after only 10 minutes.
Garland Canada Inc. provides solutions for today's commercial building industry to private and public sector customers coast to coast. Founded in 1987 as a fully owned subsidiary of Garland Industries, Garland Canada is a multi-million dollar business with employees strategically located throughout the country, who help stimulate each regional economy by working with an extensive network of locally based roofing contractors to install high-performance roofing, wall, and flooring systems.
For a free inspection or for more information, visit http://www.garlandcanada.com or call Marisa Rea at 1 800 387 5991.