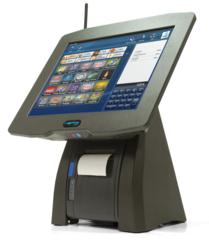 "HIOPOS" has an international presence that takes advantage of USAePay's ability to process for retail, lodging, and restaurant industries.
Los Angeles, CA (PRWEB) April 10, 2012
USAePay is delighted to announce it has effectively integrated its payment gateway solutions with HIOPOS, an ICG Software product. HIOPOS, a widely used point-of-sale solution, is available in numerous international markets in addition to the USA. The ICG group develops solutions for a variety of industries including hospitality, retail, distribution and more.
"USAePay is pleased to announce a partnership with "HIOPOS," a division of ICG Software. "HIOPOS" has an international presence that takes advantage of USAePay's ability to process for retail, lodging, and restaurant industries," said Vlad Galyuz, VP of Integration at USAePay. "We look to combine a tradition of excellent payment gateway and point-of-sale service to all merchants."
The 15" HioPOSplus system comes complete with a touch screen, receipt printer, customer display, WiFi, Windows OS, and point-of-sale software. The solution is especially unique in that it is inclusive, quick to install, and requires little or no training to operate. HIOPOS is currently sold internationally, present in over 30 countries on five continents.
"ICG Software is extremely excited to announce our newest payment gateway partner, USAePay. "HIOPOS" is the easiest computerized POS system available today and USAePay is the premier payment gateway," said Frank Grabowski of ICG Software. ICG products, including HIOPOS, are currently available in more than ten languages.
About USAePay
USAePay, a GorCorp Inc. company, has been helping merchants process their credit card and check transactions with speed and security since 1998. Founded by the Goretsky brothers, the company is family-owned and based in Los Angeles, CA. The USAePay gateway currently supports all of the major platforms (First Data, TSYS, Global, Paymentech) in the credit card industry and works with some of the leading check platforms. USAePay is also pleased to work with many of the larger merchant service banks in the US and abroad. For more information, please visit http://www.usaepay.com or call 866.USA.EPAY (872-3729).
The ICG Group
The ICG Software Group, based in Spain, produces and markets innovative information technology, focusing on the development of business management solutions. ICG develops solutions for a diverse range of business areas; Hospitality, with advanced technology for hotels, restaurants, fast-food, nightclubs, and cafeterias; Retail, with solutions for fashion stores, supermarkets, and chain management; Industry and Distribution, with a highly configurable ERP solution to satisfy the needs of any company; Planning, with solutions to help companies in their management tracking and scheduling processes, with a CRM and document traceability; and Mobility, staying on top of mobile processing trends.