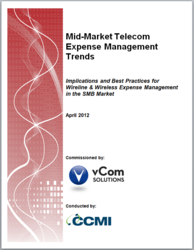 As this survey details, the SMB communications environment in 2012 is markedly different.
Gaithersburg, MD (PRWEB) April 11, 2012
CCMI, in conjunction with vCom Solutions, today released "Mid-Market Telecom Expense Management Trends: Implications and Best Practices for Wireline & Wireless Expense Management in the SMB Market," a survey of 100 U.S.-based firms with annual revenues of $25 million to $500 million. The research pinpoints the key issues firms of this size face as the complexity of their telecom environments grow. These organizations now use many complex wireless and wireline services as well as multiple communications service providers – but there has not been a commensurate increase in the technical and analytical skill sets to effectively manage the procurement, deployment and expense associated with the services.
Key survey findings include:

42% of respondents process 10 or more invoices each month, with some tackling 25 or more monthly.
One-third of the companies surveyed use three or more wireless service providers.
Almost one-half are not sure they have the optimum mix of services and the lowest possible prices, and well over one-half believe they can do better.
Only 9% of the firms use automated tools to track and manage telecom expenses.
"These firms are in a difficult position because traditionally the scope of communications services they used and associated expense simply did not warrant dedicated staff. But as this survey details, the SMB communications environment in 2012 is markedly different." said George David, president of CCMI. He added, "The good news is that the emergence of cloud-based expense management software coupled with the proper use of communications service aggregators offers SMBs viable options to better manage costs."
"Mid-Market Telecom Expense Management Trends" includes a detailed analysis of the survey results. Download the report at http://www.ccmi.com/Mid-Market-TEM-Trends.
CCMI is also conducting a free webinar with survey co-sponsor, vCom Solutions, on Wednesday, April 25, to present the survey results in greater detail. Learn more and register for the webinar at http://www.ccmi.com/Mid-Market-TEM-Trends-Webinar.
About CCMI
CCMI is the industry's leading provider of telecom rate and data solutions and information. We are dedicated to delivering relevant, highly specialized and strategically focused content. Find a complete product listing at http://www.ccmi.com/Products. CCMI publishes Voice Report, the leading independent source of telecom news, analysis and award-winning guidance on communications technology services and equipment for the enterprise. For analysis and guidance on the latest telecom happenings, visit http://www.TheVoiceReport.com, and sign up to receive email updates.
About vCom Solutions
vCom Solutions revolutionizes the way enterprises manage their entire telecom lifecycle. vCom customers gain control over inventory, expenses and carrier relationships, achieving better business intelligence that drives profitability. vCom's Telecom Management as a Service (TMaaS) solution includes a suite of cloud-based telecom management software tools, complemented by a full portfolio of professional services. For more information, visit http://www.vcomsolutions.com.