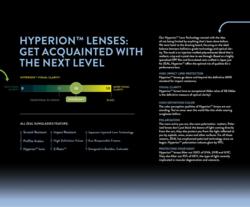 "Our customers are stoked on the quality and the low environmental impact ZEAL is bringing to the market."
Annapolis Maryland (PRWEB) April 11, 2012
Pure Board Shop is stoked to be the latest authorized Zeal Optics dealer.
Pure believe's in Zeal's global responsibility and low carbon impact with the frames all made with Castor Beans, not crude oil.
All of Zeal's frames are made from Z-Resin tm, a bio-based plastic from Switzerland.
Instead of crude oil, its made from the Castor Bean oil.
It is not just Zeal's 'green' line, but their full line.
Crude oil releases tons of CO2 during manufacture, which harms the natural eco-system.
The castor plant has a positive effect on the enviroment and can be planted and re-planted.
It's a perfect resource because it's an effiencient and extremely fast growing perennial, thats easy to grow, withstands drought and thrives on marginal lands-meaning it doesn't compete with food crops.
Zeal is also using a proprietary Hyperiontm Lens.
The Hyperion™ Lens is an all-purpose lens that has an ABBE value of 38 – allowing for durability and impact resistance similar to that of polycarbonate but with greater optical clarity.
Hyperion™ blocks harmful HEV light (which has been implicated in Advanced Mascular Degeneration and cataracts at a young age) as well as UVA, UVB and UVC lights.
You can wear them all day, every day, as the copper color of the lens is defined for all light conditions.
Another awesome feature of the glasses are the rubber that prevents them from slipping during activities.
ProFlex™ Rubber is what allows Zeal's sunglasses to blur the line between active and lifestyle.
This hypoallergenic rubber is injected into the sunglasses mold and is in key places so that the sunglasses will stay on your face while you're on the move.
It's great at performing in the extremes – whether you're in freezing winter weather or a hot summer day with 100% humidity, your sunglasses will stay put.
As an added bonus, ProFlex™ is hidden on the inside of most of our frames so that you can go from work to happy hour to your run without having to bring three different pairs of sunglasses.
You can find a great inventory with terrific pricing of Zeal sunglasses @ pureboardshop.com.
Pure Board Shop also carries Nike SB, Adidas Skateboarding, Vans, The Hundreds, Diamond, Pure, RVCA, LRG, Huf and Neff,
Join us @ twitter.com/pureboardshop and facebook.com/pureboardshop.