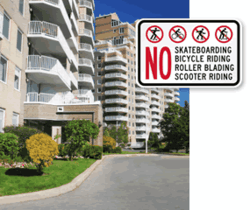 The mission of prohibition signs is to keep properties and communal areas safe and enjoyable and provide people with peace of mind," said Blair Brewster, creator of MySecuritySign.com.
Brooklyn, NY (PRWEB) April 11, 2012
MySecuritySign.com, a leading online supplier of over 5,000 different security signs, is offering special promotions on Property Signs to start April in a big way. Saying "No" can be difficult, and therefore prohibition signs are excellent tools for managing rules. Customers can create personal signs in minutes using the store's hundreds of customizable templates.
Signs with prohibition messages are vital assets for any property or residence. "The mission of property signs is to keep properties and communal areas safe and enjoyable and provide people with peace of mind," said Blair Brewster, creator of MySecuritySign.com. "The last thing we want is for someone to feel uncomfortable because of a disturbance. Different people have varying opinions on what sets them on edge, which is why custom options are advantageous." The property signs are perfect for workplaces, neighborhoods, or buildings.
The store makes designing custom property signs a painless process. After choosing one of many templates, a shopper can enter the action worth prohibiting. Sometimes having one 'No' message is not enough, and therefore the templates have room for multiple 'No' messages. For example, one sign commands "No Skateboarding, Bicycle Riding, Roller Blading, Scooter Riding." There is no shortage of standard and designer Prohibition Signs in the selection, which offers different sizes, legends, and graphics. Customers can also choose from plenty of PDF sign versions to download if standard signs are not manageable.
One of the many advantages of sticking with MySecuritySign is that the retailer uses the most trustworthy materials available. It's important to have signs that stand out for miles, which is why prohibition signs are printed with 3M outdoor digital inks. The sign's composition is up to the buyer, though many prefer durable aluminum signs that won't rust or yield to weather or chemical damage. Other choices are laminated vinyl and hefty plastic. To add a picture, shoppers can upload personal graphics or choose one of the site's many images.
For more information and a better view of all Property Signs, visit http://www.mysecuritysign.com/property-signs.
About MySecuritySign.com
MySecuritySign.com provides over 5,000 different security signs to protect any home or property. Whether it's video surveillance, no trespassing, or customizable options, the signs will last for decades through weather and abrasion. Find direct-from-factory items 50% cheaper than any competitor.
About SmartSign
SmartSign is one of America's fastest growing e-commerce companies and parent of http://www.MySafetySign.com, http://www.MySecuritySign.com, as well as over 50 other sites.
Traditionally, signs with the right message have been hard-to-find, hard-to-design and hard-to-order. By positioning "Signs as Solutions", SmartSign has taken an entirely different approach. Through highly targeted, yet content-rich and authoritative sites, the company provides specific solutions to specific problems - such as keeping property safe and secure. "We take the agony out of finding and ordering your perfect sign" - Blair Brewster, SmartSign founder. Couple this with fast and free shipping, 3M warrantied signs that outlast fast-fading ink jet signs from competitors, the web's largest range of designs and a best price guarantee, it is easy to see why SmartSign has grown so quickly.
Check out the company's blog to learn about how signs relate to everyday life matters at: http://www.smartsign.com/blog/.