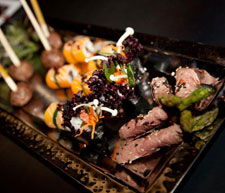 Rodney Kaufman and his team have always
exceeded our expectations and have always been most accommodating and
reassuring in making every event enjoyable and outstanding.
Toronto, Ontario, Canada (PRWEB) April 10, 2012
Recently, Toronto became home to a new catering company, Impeccable Taste Catering. The new company has launched a website that boasts an extensive line of catering services. The professional caterer catering in Toronto provides expert planning for casual lunches, seminars, conferences, product launches, release parties, corporate affairs and weddings, among other social events.
President of Impeccable Taste Catering and Executive Chef, Rodney Kaufman, explains, "Impeccable Taste Catering was born out of the philosophy that exceptional food must not only be meticulously prepared, but artfully presented. Our service offering includes creative, colorful and unusual menu options for all types of events."
Kaufman has over 25 years of experience in the food industry. A graduate of one of the world's finest schools of culinary arts, Kaufman has also operated Compri Food Service, one of the city's premier full-service catering and event companies.
With an eclectic sampling of food offerings, Kaufman and his dedicated culinary team have built a reputation for demonstrating a progressive attitude towards catering food in the Canadian food industry. Their brand promise is a superior quality of food and presentation, problem-free events and trained staff. At Impeccable Taste Catering, food must be creative, stylish and effortless.
When it comes to impeccable food, catering Toronto corporate organizations and private individuals are typical customers at Impeccable Taste Catering. Owner, Rodney Kaufman says, "From initial conception, through final presentation, at Impeccable Taste Catering we work collaboratively with our clients to deliver a customized service that includes custom menu designs, and streamlined menu selections for memorable theme-based events. Impeccable Taste Catering will meet any and every requirement the client has."
A sampling of the corporate lunch delivery menu will reveal items that are ideal for:
Boardroom lunches
Breakfast meetings
Training session luncheons
Employee appreciation lunches
Customer appreciation receptions
Open house events
Celebrating company anniversaries or milestones
The discerning socialite can rest assured of a well-planned social event. Social events may include home parties (plated meals, food stations, passed hors d'eouvre, buffets, and barbeques), wine tastings or a scotch nosing. Impeccable Taste Catering takes care of all associated event-coordination details such as:
Tent rentals
Specialty linens
Floral décor
Entertainment
Uniformed wait staff
Event rentals
Impeccable Taste Caterings offers its corporate clients a wide array of breakfast options including pizza, fruit trays, pastry and muffins. Customized box menus and bistro-boxed lunches are among the packages in which corporate menus have been designed to showcase Impeccable Taste Catering's delectable offerings.
A full service catering company, Impeccable Taste Catering provides service to both private individuals, companies and corporations in Toronto and the wider Greater Toronto Area markets. Call Executive Chef Rodney Kaufman at 416 792-2595 or visit http://www.itcatering.ca for more details.
Search Engine Optimization Toronto: IFM.ca