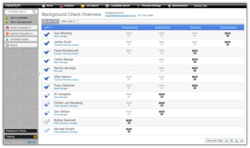 Most of our customers do background checks and this is one of the most inefficient steps in their hiring processes. We're changing that.
San Francisco, CA (PRWEB) April 10, 2012
Newton Software, a leading provider of applicant tracking software and corporate recruiting technology, unveiled another powerful feature aimed at solving a major pain point for employers surrounding pre-employment screening and background checks. For most employers, pre-employment screening is necessary but requires too much manual labor as it's performed today. Contacting applicants, collecting release forms and capturing sensitive information is inefficient and poses significant risks to employers.
In response, Newton Software has developed partnerships with select background check providers and with their participation has gone beyond the industry-standard integration. The new functionality added to Newton today, marks a first-of-its kind applicant tracking integration and is the largest announcement from any mid-market applicant tracking vendor so far this year.
Obsessed with enabling users to save time on repetitive tasks and increase productivity, Newton now comes equipped with the ability to integrate with background check providers in real-time to create a simple, smart, safe and stable pre-employment screening process.
Significant customer benefits include:

Single-click background check requests.
Real-time background check dashboard.
Fully-branded applicant self-service portals to collect release signatures and personally identifiable information.
Integrated auto-updates on background check status for each applicant.
Joel Passen, Newton Software's head of marketing, elaborated on the new feature integration: "Integrations come in many forms. Unfortunately, many applicant tracking software vendors treat integrations as an afterthought, offering integration pages and even batch data dumps. These are inefficient and clunky. Having been recruiters, our team understands that applicant tracking software marks the beginning of the talent chain and there are important processes that should be integrated seamlessly to improve efficiency, create transparency and track spend."
"Most of our customers do background checks and this is one of the most inefficient steps in their hiring processes. We're changing that. By partnering with select partners that have the technical abilities and same philosophy on customer service as Newton Software, we're able to essentially productize background checks and at the time same time make them safer and easier to perform," Passen went on the say.
About Newton Software:
Newton is modern, easy-to-use applicant tracking software designed to organize and improve internal recruiting programs for small and medium sized businesses (30-3000 employees). Newton features best-of-breed dashboards that create unparalleled visibility and transparency. In addition, Newton is the only ATS designed to drive the decisions that drive hiring, taking into account all users in the corporate recruiting workflow. Green is Go. Red is No.® Industry leading adoption rates (+90%) ensure easy collaboration. Powerful performance-driven metrics allow HR and recruiting users to always be in control.