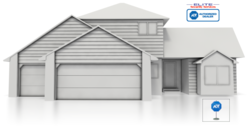 Advanced Two Way Voice Technology Added to Premium Home Security Systems Package from Elite Security Services
(PRWEB) April 09, 2012
Elite Security Services has just announced another noteworthy enhancement to their home security systems. The new feature introduced to the systems is called the voice connect or two way voice technology, and would be available now with the premium package from the company. Elite Security Services has developed into one of the most trusted and rapidly growing security companies in America in the last few months. The premium package is one of their most popular service plans that are available all over the United States and Canada for only $40.99 per month. The company also has two more excellent service packages for the homeowners.
The home security systems industry has seen major technological advancements in the last few years and voice connect technology is one of those. The system adopted by Elite Security Services has a sophisticated control panel with intercom facility. The system can efficiently verify the nature of emergency and users can promptly communicate with the ADT monitoring stations from any part of their home. This feature considerably reduces the response time when an emergency situation arises. The inclusion of this facility has been greeted with great enthusiasm by the customers of Elite Security Services.
Introducing this technology to the premium service package, the company owner Paul Shakuri stated, "This is a proud moment for Elite Security Services. Our customers can now enjoy the benefits of one of the latest innovations in the security industry. We look forward to your support as always and promise you nothing but the best as per industry standards". It has also been revealed by reliable company sources that all the home security systems packages from Elite Security Services are about to receive further technological upgrades very soon.
About the Company:
Elite Security Services is a rapidly growing company in the home security industry. They offer highly efficient and economical home security solutions in America and Canada.
Contact
Paul Shakuri
Phone: 800-880-9569.
Website: http://www.YourAlarmNow.com