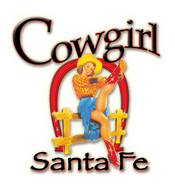 "It's not about millions of fans and lots of money! It's about music, the connection with the audience, and good times!"--Ashley Edwards
Santa Fe, New Mexico (PRWEB) April 10, 2012
Beginning at 8 p.m. Thursday, April 19, Cowgirl, a featured company on the SantaFe.com Restaurant Guide and Business Directory, serves up musical magic from local musical duo The Caitlin Ashley Project. The band is formed by Caitlin Cannon, formerly Brooklyn-based alt-country pop songstress and California-bred Ashley Edwards, front woman of local indie-soul phenomenon, "Hello Dollface."
Caitlin Cannon was born in Alabama, her mother a hairdresser and father a lineman for the Huntsville Utilities. Her grandmother raised her on Cole Porter, put curlers in her hair and drove her to auditions all over the city. Caitlin was enrolled in a performing arts academy and soon branched out into community and regional theater productions.
During those early years, Cannon's father moved to a farm in Hot Rock, Tennessee, and during the long drives to and from the farm, she became acquainted with the music playing on the local country radio stations. At 10 years old, she was given her first CD player and began stocking her collection with The Beatles, Queen, Hank Williams, Rosanne Cash, Steve Earle, Reba McEntire, Dolly Parton and The Judds.
Her grandmother bought her her first guitar just before she moved with her mother and stepfather to the Durango, Colorado and the Wild West. Those raucous high school days brought with them a passion for more Alt-C. She quickly became enamored with Uncle Tupelo, Ryan Adams, Jason Isabel, Tift Merritt, Jenny Lewis, Patty Griffin and Lucinda Williams. All the while continuing her theatre pursuits, Cannon was awarded the Patricia Barry (The Twilight Zone) Scholarship, to attend Stephens College, a celebrated women's performing arts school in operation since 1833. She graduated cum laude with a bachelor's degree in theatre, dance and music and a couple of professional theatre credits under her belt by playing Roxie in "Chicago" and Bianca in "Kiss Me Kate".
After graduation, Cannon stuffed her boots in a duffel and bought a plane ticket for New York City where she enrolled in the two-year Meisner training program under the instruction of Bill Esper. Furthermore, she began composing her original music and made her debut as part of NYC's Honkytonk Angels. Since then, she has performed in venues such as Hill Country, The Living Room, Piano's The Knitting Factory, Hanks Saloon, Life Cafe, Spike Hill, Pete's Candy Store, Jalopy Theatre, Zebulon, and Kathryn's House, where she opened for David Olney and split the bill with Eleanore Whitmore of Steve Earle and the Dukes and Duchesses.
In 2010, Cannon was co-founder of a project called William's Daughter's in which she gave concerts and administered songwriting all over the Northeast. She has worked with populations in hospitals, rehabilitation centers, libraries, after school programs and high schools. She continues her own studies in music and performance wholeheartedly, and has received songwriting instruction from Sarah Lee Guthrie, Johnny Irion, Anais Mitchell, Mary Gauthier, Daryll Scott, Chris Williamson, Paul Reisler, Amy Speace, Emory Joseph and Pat Pattison (Berklee).
Alongside producer Tim Edgar (Nico Vega, Earl Greyhound), Cannon released her first album of original songs, self titled "Caitlin Cannon and the Artillery." The record delicately explores uncomfortable concepts and beautifully expresses them through chirpy melodies ("Fire Escape") and evocative arrangements ("Stranger"). She delivers her touching alt-country dream pop originals, Western Swing hits and Country Classics regularly from the Midwest to East Coast.
In 2006, an early March snowstorm blew Ashley Edwards into Illinois. Looking for a fresh start, and a way to follow her dreams, she started over again and achieved just that. Raised in Southeastern Oklahoma, Edwards was the rebel 'brainy' child who looked for any opportunity to prove her disapprovals wrong. That's a quality she still harbors. Her rebellious nature is shown in her newest release, "Your Girlfriend Is A Whore."
"The song in itself is just fun! I mean, who hasn't encountered a situation like that right? May as well get a laugh out of it!" Edwards says, when asked about inspiration behind the song. "My first album is more than likely going to be a shocker!", she laughs. "It's not what you would expect to hear coming from a girl, I guess you could say. But I've never been one to set boundaries for myself."
With cover tunes such as "Methamphetamine" by Old Crow Medicine Show, "Jambalaya" by Hank Williams, and "Sometimes It Takes Balls (To Be A Woman)" by Elizabeth Cook, she ranges from cute and country to hardcore redneck. Don't let her fool you because as soon as you think you've got her pegged she'll pull out a song you would never thought she'd do! Currently, Edwards is in the studio recording. There are live acoustic tracks that can be found on her Reverbnation website.
"It's not about millions of fans and lots of money! It's about music, the connection with the audience, and good times!"--Ashley Edwards
About SantaFe.com
SantaFe.com provides Santa Fe locals and visitors alike the most current interactive platform for events, music, arts, business, dining and lifestyle. SantaFe.com is a division of Hutton Broadcasting, located at 2502 C. Camino Entrada, Santa Fe, NM 87507
Contact Information:
Scott Hutton
SantaFe.com / Hutton Broadcasting
http://www.santafe.com
(505) 471-1067 (Media inquiries only, please)
About Cowgirl
Since 1993 the Cowgirl, which now occupies almost the entire block where it started, includes a restaurant, a billiard parlor, a commercial catering kitchen and several private party rooms. The patio is one of the most inviting summertime venues for locals and tourists alike and the Cowgirl has become a local institution.
Contact Information:
Barry Secular
Cowgirl
319 S. Guadalupe St.
Santa Fe, NM 87501
http://www.cowgirlbbq.com
(505) 982-2565