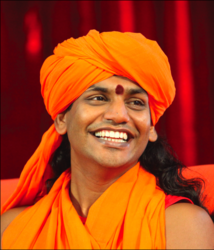 These Kriyas are my unique contribution to the world.
Los Angeles, CA (PRWEB) April 16, 2012
Nithyananda states that this contribution has the potential to revolutionize health care. In addition, the kriya techniques have never before been assembled so specifically for particular disorders.
Each kriya technique has complete, guided, step-by-step instructions, including photos and videos empowering any individual to find a pathway to health and well-being.
The kriyas are designed to heal the body and break the conditioning that causes the disease. For example, Nithyananda says there are three factors involved in the cause of diabetes:

Eating with a lack of awareness.
Eating food that does not support your health.
How you eat your food – what kinds of thoughts you're having while eating.
"All three cause the food pattern of an individual, which in turn, is responsible for diabetes. With the practice of the kriya, not only will your diabetes be healed, but the pattern and root cause of diabetes will also be destroyed." said Nithyananda.
Paramahamsa Nithyananda trained under powerful yogis since childhood, and has been a practitioner of mystical yogic sciences, reviving many ancient teachings. Nithya Kriyas are anchored in the sacred yoga scriptures, including the "Patanjali Yoga Sutras," as well as the three classic texts that form the base of yoga.
Utilizing the powerful, ancient Vedic teachings as a guide, each kriya is specifically created with a combination of postures and breathing patterns to address a disease.
Nithyananda's acute awareness of physical and mental patterning – honed by observing his own body and mind, as well as the many people who have consulted him on disease – has given him the ability to select and combine the precise physical posture with the breathing technique required to address a disease pattern within the body. The techniques have been perfected by testing select groups of disciples over a period of 21 days.
For each ailment, both "care" and "cure" kriyas are provided. The care kriya is a preventive technique for use by healthy individuals, while the cure kriya is designed for people who already suffer from a particular disease.
In keeping with the Vedic practice of continuous learning and enrichment, feedback is invited from anyone who can contribute positively to the evolution of Nithya Kriya as a holistic solution for the body, mind and spirit of the modern individual.
Nithya Kriya camps have been conducted for specific ailments at various worldwide locations and many participants have cited significant improvement in their health within seven days of practicing the kriya.
Nithya Kriyas are available for free download at http://www.nithyananda.org/nithya-kriyas
About Paramahamsa Nithyananda:
Paramahamsa Nithyananda is a global leader in enlightenment science. He is the most-watched spiritual teacher on YouTube.com with 13 million views, and the author of more than 200 popular books. Nithyananda was recently named one of the world's top 100 most spiritually influential personalities by Watkins' "Mind Body Spirit," the world's largest and oldest esoteric magazine.
About Inner Awakening:
Inner Awakening is a unique and intense 21 day yoga and meditation program held in the Nithyananda Dhyanapeetam Ashram in India, under the personal guidance and coaching of the Enlightened Master Paramahamsa Nithyananda. This program gives the participants the opportunity to realize one's full potential in all aspects of life to leading towards an extraordinary way of existing.
For more information please contact:
Ma Premananda
Life Bliss Foundation
9720, Central Ave
Montclair, CA – 91763
USA
pr(at)nithyananda(dot)org
909-728-2809