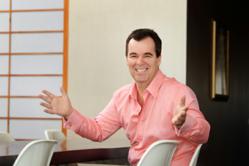 The youth has the most potential in the property market because they are full of enthusiasm and fresh ideas.
(PRWEB) April 11, 2012
Owning a house is every Australian's dream, both young and old. A recent survey has shown that most of Australia's youth are eager to enter the property market, but are being hindered by the strict banking requirements and hefty deposit. That is why creative property options like the strategies introduced by Rick Otton, a successful property guru, are rapidly becoming prevalent in the real estate market.
Mr. Otton has shown that owning a dream home can be achieved using his property investment strategies, with little or no cash, and no intervention from the banks. He has travelled to the USA, UK and New Zealand to teach his students how to buy and keep properties using his techniques.
"Most of my students belong to the younger generation, and they sure are enthusiastic in learning the ropes of the real estate industry," shared Mr. Otton.
The survey was done for LJ Hooker Finance participated in by 1017 people and the result revealed that thirty percent of the people surveyed considers property as a good investment but are being held back by the idea of saving for a large deposit.
"It is a fact that most of the younger generation are not yet financially stable and are wary of having financial commitment," Rick Otton said.
"Prospective homeowners and aspiring investors are usually intimidated by the huge deposit they will have to pay for the property. That's where my rent to buy strategies comes in. You see, I've been teaching people, for more than twenty years now, how to buy houses with no deposit," he continued.
Mr. Otton believes that it is difficult for people, regardless of age, to save up for a deposit due to the worsening economic climate. "I have formulated my strategies under the same condition so I understand where people are coming from. I want to teach people, especially the young ones, how to do what I have accomplished. They have the most potential in the property market because they are full of enthusiasm and fresh ideas,' he said.
Rick Otton shares his strategies through his trainings, real estate seminars and the 3-day Bootcamp. He has also launched a website recently, http://www.creativerealestate.com.au , which serves as a free resource for people who want to discover creative property options. The free website includes articles and podcasts on innovative real estate.
For more information on Mr. Otton's strategies, you can go to http://www.creativerealestate.com.au
About Rick Otton
Rick Otton is an original pioneer of creative property strategies. He is founder and CEO of We Buy Houses, a leading property enterprise which operates in the property markets of the United Kingdom, New Zealand, USA and Australia.
In 1991 he uncovered an innovative strategy of buying and selling real estate and went on to amass a portfolio of 76 properties in his first twelve months of active investing.
Since 2001, Rick has taught over 30,000 students to buy, sell and trade residential property without banks, debt or risk. By employing these same strategies many of Rick's students have made over a million dollars a year in cash and equity, using little or none of their own money, year after year.
In 2008 Rick revealed his strategies in the United Kingdom and became the creator of 'Houses for a Pound'.
He has appeared in the following Australian TV programmes: 2004 ABC documentary 'Reality Bites' and on Today Tonight, Insight and A Current Affair. In October 2007 Rick gave a way a house on national TV during 2 episodes of Channel 9's Hot Property.
Rick Otton has also been featured in Your Property Network, Australian Property Investor, Lifestyle Trader Magazines and in the books: The Secrets of Property Millionaires Exposed!, Ideas: Original Perspectives On Life and Business From Leading Thinkers, Think and Grow Rich in Property, Insider Property Secrets, and Walking With The Wise.
Rick Otton can be contacted via his website http://www.creativerealestate.com.au