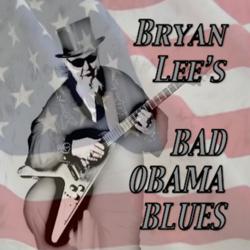 Government intrusion into the lives and pockets of the American people
Houston, Texas (PRWEB) April 10, 2012
The George Jarkesy Show is proud to announce that Bryan Lee, known as "The Braille Blues Daddy" of New Orleans, has released his newest single "The Bad Obama Blues" on Apple iTunes today. Lee introduced his new song on The George Jarkesy Show on March 21st. Bryan Lee co-wrote the lyrics to The Bad Obama Blues with nationally-syndicated talk show host, George Jarkesy. The impetus for the song was to create a response to the current economic and political situation, and in response to their concern for, "government intrusion into the lives and pockets of the American people". Lee is unique in that he is an accomplished blues musician and has been a fixture on Bourbon Street since the 1980's, yet Lee has been without sight since the age of eight. When Jarkesy asked Bryan Lee what inspired him to write the song he stated, "First of all it was you. You were the guy who called me up one night and said Bryan you know I love your music, and this country has got the blues so bad, why don't you write a song about it."
The intensely partisan song, which focuses on the negative effects of the Obama Administration, is done in the "Chicago Blues Style" similar in style to John Lee Hooker. The song refers to veterans being left the streets, and contains a call to action to "Stand up for the Constitution". Lee's lyrics tell a story of government control and regulation leaving the small businessman with, "business…no more". Jarkesy stated that, "Bryan Lee encapsulates the feeling that is permeating the country right now from the breakdown of our Constitutional Rights to not making the tough decisions that have all of Washington in gridlock." The entire Bad Obama Blues is available here for download.
You can find out more about The George Jarkesy Show by visiting http://www.georgejarkesy.com. On the site you can Listen Live from 4-5 PM EST Monday through Friday, listen to past shows, download shows on Apple iTunes, learn about upcoming events and guests, and stay up to date on the need to know news.
About Bryan Lee
Called by Eric Clapton as "One of the best Bluesmen I have ever heard", Bryan Lee has been a fixture of the New Orleans Blues scene since the 1980's with thirteen albums to his credit. Lee has been blind since the age of 8 years old, and states, "I can focus deeper, I don't have any physical distractions, that's the grace of God." You can learn more about "The Braille Blues Daddy" and his New Orleans Blues here.
About Jarkesy & Company
George Jarkesy is a money manager and professional investor, respected financial and corporate advisor, and radio host of the nationally syndicated 'The George Jarkesy Show'. He is a frequent market commentator and guest on FOX Business News, FOX & Friends, and CNBC. George started his career in the financial services industry with a New York Stock Exchange member. George also serves on the Finance Committee of the Republican National Committee and is an active member of the National Investment Banking Association, The Jarkesy Foundation, and Chairman of The National Eagles and Angels Association.