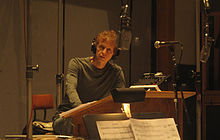 Hollywood, CA (PRWEB) April 10, 2012
The 28th annual celebration of the L. Ron Hubbard Achievement Awards will begin with an epic, theatrical show piece featuring Broadway star, James Barbour and Kerri Kasem along with 30 other performers. The number was created by Broadway composer/lyricist, Raven Kane and arranger/composer David Campbell whose work is featured on over 40 Grammies and 2 Oscars. There will also be several stunning theatrical dance numbers throughout the evening, each one created with a vision and communication matching the ambience of the evening.
Also participating in the ceremony will be movie and television celebrities including Marisol Nichols, who plays Heather Cruz in ABC's "G.C.B."; Kristin Bauer van Straten, star of HBO's "True Blood"; Karen Black, "Easy Rider" and "Five Easy Pieces"; Nancy Cartwright, voice Bart Simpson; Phil Proctor, voice of Howard on "Rugrats" and Bob the Seahorse in "Finding Nemo"; John Mariano, voice of pigeon Bobby on "Animaniacs"; along with best-selling authors Kevin J. Anderson, Dune prequels; Larry Niven, Ringworld; Jerry Pournelle, A Mote in God's Eye; Tim Powers, On Stranger Tides, which Pirates of the Caribbean IV was based on; Robert Sawyer, referred to as Canada's Dean of Science Fiction; and Sean Williams, Australia's #1 New York Times bestselling sf author, who will all serve as presenters to the 12 writer and 12 illustrator winners.
Each writing and illustrating contest winner will be presented their trophy by contest judges at the ceremony and receive combined cash prizes and royalties of over $30,000. A time capsule with predictions from a quarter century ago from top scientists and science fiction writers on what life will be like in the year 2012 will be opened and the contents displayed for all to see following the ceremony.
Sealed 25 years ago at the Writers of the Future Awards Ceremony in the World Trade Center, a time capsule will be opened which has predictions from such notable science fiction writers as Isaac Asimov, Algis Budrys, Orson Scott Card, Larry Niven, Frederik Pohl, Jerry Pournelle, Tim Powers, Robert Silverberg, Jack Williamson, Gene Wolfe and Roger Zelazny, along with newcomer Dave Wolverton, that year's grand prize winning writer. Top scientists with their look into the future include Nobel Prize winner in Physics, Sheldon Glashow, and Columbia University physicist, Gerald Feinberg.
The Writers of the Future writing contest (http://www.writersofthefuture.com) was initiated by L. Ron Hubbard in 1983 to provide a means for aspiring writers to get that much-needed break. Due to the success of the Writing Contest, the companion Illustrators of the Future Contest was created in 1988.
The intensive mentoring process has proven very successful. The more than 650 winners of the Writing and Illustrating Contests have published over 750 novels, 3,500 short stories and have had their art published in more than 500 books and magazines, with 4,500 illustrations, 350 comics and over 1.3 million art prints.
Doors open at 6:00 PM and the event starts promptly at 6:30 PM on April 15, 2012 at the historic Wilshire Ebell Theatre, Los Angeles, CA, "renowned for the great diversity of the artists that have graced it stage." http://www.ebellla.com/theater/index.htm
RSVP to contests(at)authorservicesinc(dot)com or call 323-466-3310.