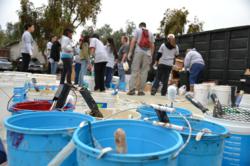 "We're in a period of great economic difficulty and people are struggling."
-Assemblyman Fletcher
San Diego, CA (PRWEB) April 11, 2012
Since 1974, the annual celebration of National Volunteer Week inspires and galvanizes individuals to serve the communities in which they live by volunteering their time and talent to make a difference. This year, National Volunteer Week will be observed April 15-21.
The Rock Church places the concept of volunteerism at the core of its mission to the surrounding community each year by pledging thousands of hours to the City of San Diego. In 2011, 235,286 hours of volunteer service was donated by Rock Church volunteers to the City of San Diego (at an estimated value of $4 million.)*
"We're in a period of great economic difficulty and people are struggling," said Assemblyman Nathan Fletcher. "We all have an obligation to give back, to be of service and use whatever gifts and abilities we have to serve others. (The Rock Church is) demonstrating the heart of what it means to be a Christian."
For the past fifteen years, the Rock has hosted "Toys for Joys," a community Christmas event. Some 7,700 toys were distributed to the children of San Diego area. In addition, 12,000 grocery bags and 130,000 articles of clothing were given away. The event brought over 2,000 volunteers together to help at this annual event at an estimated cost savings of $315,597.
Throughout the year, the Rock Church mobilizes thousands of volunteers to work on several community beautification projects identified by city leaders. In March 2011, volunteers beautified the Serra Mesa Recreation Center and Community Park. Again, in June 2011, Rock volunteers descended upon four San Diego fire stations for another beautification and renovation project.
According to San Diego Food Bank Chairman Eugene "Mitch" Mitchell, summer is the greatest time of need at the food bank. So during the month of May, the Rock Church collected 21,000 pounds of food for the San Diego Food Bank to make sure people in San Diego – particularly children – have enough to eat. This year the Rock, partnering with the Rock Academy and other church ministries, hopes to reach a goal of 32,500 pounds of food by May 31.
The Rock Church has over 1,800 volunteers serving in 115 Outreach Ministries. Church members of the Rock take their experiences, hobbies, and talents and use them to create ministries that are tailored to address the needs of people in the community. The list of ministries include: Cancer Care; Domestic Violence; Prison; Convalescent Homes; Military; Rock Recovery; Gang; and Foster Youth Mentor.
According to Miles McPherson, senior pastor of the Rock Church, "It's one thing to say God loves you, but it's another to show it by reaching out in practical ways to the community around the church through the concerted volunteer efforts of church members."
To find out more about Rock Ministries please visit: http:// http://bit.ly/w7gs4u.
2011 Rock Church Highlights: http://bit.ly/IciXVL
MEDIA OPPORTUNITIES:

Interview opportunity with Rock Church Senior Pastor and author of "DO Something: Make Your Life Count" Miles McPherson
*value calculated by ONET