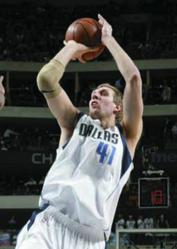 "Help me wipeout cancer. Together we CAN do this!" - Dirk Nowitzki
Los Angeles, CA (PRWEB) April 11, 2012
The Kids 4 Kids 5K & 10K RUN/WALK and "All Star" Carnival benefiting Children's Cancer Research Fund (CCRF) announces its National Spokespersons' Team co-captains, Landon Donovan of the LA Galaxy and Dirk Nowitzki of the Dallas Mavericks. The sports luminaries committed to help increase awareness of CCRF's signature event, which is in its seventh year and now includes a 10K in addition to the annual 5K race.
"I am proud to work hand in hand with CCRF and support them in their fight against this terrible disease," said Donovan, who was also a member of the 2011 National Spokespersons' Team.
The Kids 4 Kids 5K & 10K RUN/WALK empowers participants of all ages to take immediate action to help children with cancer while bringing together friends and family for a fun day of activity and entertainment. Scheduled for Sunday, April 29, the "All Star" Carnival will include finish line entertainment, rides and game booths staffed by up-and-coming Hollywood talent.
"Help me wipeout cancer," said Nowitzki. "Together, we CAN do this!"
The NBA champion is also heading up the Children's Cancer Research Fund's first-ever "SNORE 4 KIDS" Team, which allows supporters to participate in the RUN/WALK if they cannot attend the event.
"I can't go to the Kids 4 Kids RUN/WALK, but I can still make a difference, and so can you," said Nowitzki. "So although you are still snuggled in bed, your feet can join my feet as we De"FEET" cancer."
The Presenting Sponsor for the RUN/WALK is TOYOTA and the Team Manager is Sidley Austin LLP. The event will take place at L.A. LIVE (across from STAPLES Center) at Chick Hearn Court (11th and Figueroa) in downtown Los Angeles. Registration begins at 7:00 a.m. while the Radio Disney AM 1110 "Warm-Up" takes place from 7:30 a.m. to 8:30 a.m. The race starts at 8:30 a.m. and AMP Radio 97.1 will be providing entertainment along the course. The "All Star" Carnival opens at 9:00 a.m. and the "Yum 4 My Tum" Food Court – serving pancakes to burgers! – opens at 7:00 a.m. There will be free parking before 11:00 a.m. in the West Garage/Lot W at 1005 West Chick Hearn Court.
Participants of all ages are encouraged to register in advance at http://www.ccrf-kids.org. Advance registration fees are $10 (5K & 10K – under 18), $25 (5K – 18 and over) and $35 (10K – 18 and over). Registration for the SNORE 4 KIDS Team is $25. On-site registration will be available on race day for an additional $10. To learn more about Children's Cancer Research Fund, visit http://www.ccrf-kids.org. Become a Facebook fan at: http://www.facebook.com/CCRFKIDS. Follow CCRF on Twitter: @ccrf_kids, event hashtag: #K4K5K.
About Children's Cancer Research Fund: Established in 1987 by Matti Contopulos, CCRF is dedicated to providing national support for clinical research in pediatric cancer while improving the medical environment for all children. A Healthier and Happier tomorrow is the mission and promise of Children's Cancer Research Fund to children and their parents everywhere. Monies raised from the KIDS 4 KIDS 5K RUN/WALK will fund research in pediatric oncology as well as supplies for an art program at Paul Newman's Hole in the Wall Camps. For more information, visit: http://www.ccrf-kids.org.