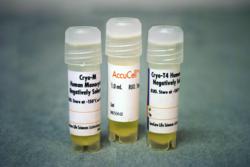 SeraCare has access to a consistent, ready supply of the human cord blood required to produce cryopreserved CBMNCs in the quantities our customers need, when they need it
Milford, Mass (PRWEB) April 10, 2012
SeraCare Life Sciences (Nasdaq: SRLS), a global life sciences company providing vital products and services to facilitate the discovery, development and production of human diagnostics and therapeutics, announced it has expanded its line of AccuCell® mononuclear cells with the launch of off-the-shelf Human Cord Blood Mononuclear Cells (CBMNCs). With viability after thaw validated at greater than 90 percent, SeraCare cryopreserved CBMNCs are ideal for use in stem cell research, drug discovery, vaccine manufacture, production of cell-based products and instrumentation, and cell production, translation, separation or expansion services.
"Through our global partnerships with hospitals, clinics and licensed centers, SeraCare has access to a consistent, ready supply of the human cord blood required to produce cryopreserved CBMNCs in the quantities our customers need, when they need it," said Tina Patel, Associate Technical Product Manager, SeraCare Life Sciences. "Many of our customers need to obtain CBMNCs rapidly and often need to compare them to Peripheral Blood Mononuclear Cells during the course of their work. By providing both of these cell lines off-the-shelf for immediate shipment, SeraCare offers customers the time-savings and efficiencies of working with a single, trusted source for material that is vital to their research and manufacturing efforts."
In addition to the newly available off-the-shelf cryopreserved CBMNCs, SeraCare continues to provide custom CBMNC and PBMC isolations for both normal and disease-state material. Various fill sizes and cell counts from donors of diverse demographics are available. SeraCare also offers custom clinical research services to complement its CBMNC line, including whole blood fractionation, cell culture services, nucleic acid extraction, cellular analysis, immune monitoring assays and custom processing, analysis and storage.
To ensure the highest purity and quality, SeraCare CBMNCs are processed at ISO-certified facilities following a rigorous, validated process, with donor material collected at facilities regulated by the U.S. Food and Drug Administration (FDA). The product is available in large lots to support long-term research initiatives and comparisons across multiple labs.
SeraCare Human Cord Blood Mononuclear Cells are available for purchase immediately worldwide. For ordering information, contact SeraCare Customer Service at 1-800-676-1881 or view the company's product catalog at http://www.seracarecatalog.com.
About SeraCare Life Sciences, Inc.
SeraCare serves the global life sciences industry by providing vital products and services to facilitate the discovery, development and production of human diagnostics and therapeutics. The Company's innovative portfolio includes diagnostic controls, plasma-derived reagents and molecular biomarkers, biobanking and contract research services. SeraCare's quality systems, scientific expertise and state-of-the-art facilities support its customers in meeting the stringent requirements of the highly regulated life sciences industry.