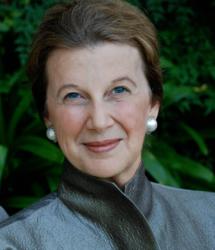 Not only did Jill Mellick bring creative expression to ITP, where it has become fundamental to our curriculum, explains President Neal King, PhD, she also personifies healing of both psyche and spirit through the power of creative expression.
Palo Alto, CA (PRWEB) April 11, 2012
"The Power of Place" is a benefit art show on display from April through mid-September on the Institute of Transpersonal Psychology (ITP) campus in Palo Alto featuring the landscape artwork of local artist, author and clinical psychologist, Dr. Jill Mellick. An artist reception will be held Sunday April 29 from 3:00 to 5:00 pm.
In the early 1990s, shortly after resigning from the Core Faculty and from her role as Founding Director of ITP's Creative Expression Program to focus on her clinical practice, writing, and artwork, Dr. Mellick was stricken with two life-threatening illnesses. "The show was born out of my gratitude for the help I received when I was being treated for advanced breast cancer," explains Dr. Mellick.
"Both medical crises were remarkable in terms of the community support I received," she remarks. "So when I came up for air, I knew I wanted others to feel that kind of extraordinary support and couldn't think of a better reason to make art." This series of works--mainly pastel landscapes--explores the healing power of place and is dedicated to women diagnosed with breast cancer.
Profits from the show will go to Breast Cancer Connections, a local non-profit organization, which gives unparalleled support to women with breast cancer. A donation will also go to the ITP Creative Expression Program. The show may be viewed by the public at any time the Institute is open. Call (650) 493-4430 for hours.
About Dr. Jill Mellick:
Dr. Mellick is a clinical psychologist and author who has had a consulting practice in Palo Alto for over 25 years. She was a Full Professor and Founding Director of ITP's Creative Expression Program and now is Professor Emerita at the Institute of Transpersonal Psychology. For more information: http://www.jillmellick.com.