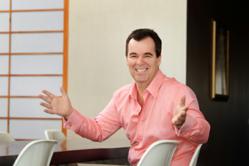 I actually think we get better results quicker, faster without the system.
(PRWEB) April 11, 2012
Investment specialist Rick Otton created a huge wave in the property market when he introduced creative real estate. Since then, he has continuously challenged the existing system and his property investment strategies have gained quite a momentum. In his most recent podcast, Mr. Otton discussed why the current system no longer works and how creative real estate has tipped the balance in the housing market.
This creative real estate podcast entitled "Traditional System Versus Creative Real Estate" outlines the difference between Mr. Otton's innovative system and the existing real estate system.
"Systems evolve unconsciously until a stage where they just don't work anymore and they become more inefficient with time. The interesting thing about it is as systems become more inefficient with time because no one stops long enough to change the system. I think where we are getting to is when we are going to walk people through how the system is, and how we have changed it. I actually think we get better results quicker, faster without the system," Mr. Otton explained.
One significant point Mr. Otton highlighted is the difference in the way a house is presented to the market. In the current system, which is adopted after the banking system, people are stuck with the marketing budgets that agents charge.
"It is kind of like having a hidden fee. Everyone in the market, when they are going to list their house, is focused on how much commission they are paying," he said.
In this episode, Mr. Otton discussed in detail his own system in selling a house, and how it works. "There are a lot of things that we do that are different. People always think it is going to be interesting," said Mr. Otton.
He also stressed out the important role technology plays in his negotiations. "I like to maximize the use of phones as a means of communication, be it by sending photos or relaying messages. I think the interesting thing is here, that we don't have to be there to talk about the bedrooms, the bathrooms, or the kitchen," he explained.
This podcast introduces us to:
o Why the existing system can no longer be applied in our current economic condition
o What makes Rick Otton's strategies work despite the negative financial outlook
o How to formulate an effective marketing strategy within a marketing budget
The video can be accessed here http://bit.ly/GRU69j
To know more on Rick Otton's strategies, you can check out: http://www.creativerealestate.com.au/
About Rick Otton
Rick Otton is an original pioneer of creative property strategies. He is founder and CEO of We Buy Houses, a leading property enterprise which operates in the property markets of the United Kingdom, New Zealand, USA and Australia.
In 1991 he uncovered an innovative strategy of buying and selling real estate and went on to amass a portfolio of 76 properties in his first twelve months of active investing.
Since 2001, Rick has taught over 30,000 students to buy, sell and trade residential property without banks, debt or risk. By employing these same strategies many of Rick's students have made over a million dollars a year in cash and equity, using little or none of their own money, year after year.
In 2008 Rick revealed his strategies in the United Kingdom and became the creator of 'Houses for a Pound'.
He has appeared in the following Australian TV programs: 2004 ABC documentary 'Reality Bites' and on Today Tonight, Insight and A Current Affair. In October 2007 Rick gave a way a house on national TV during 2 episodes of Channel 9's Hot Property.
Rick Otton has also been featured in Your Property Network, Australian Property Investor, Lifestyle Trader Magazines and in the books: The Secrets of Property Millionaires Exposed!, Ideas: Original Perspectives On Life and Business From Leading Thinkers, Think and Grow Rich in Property, Insider Property Secrets, and Walking With The Wise.