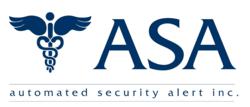 Pittsburgh, PA (PRWEB) April 10, 2012
In an age where new medical technology is helping people to live longer and healthier lives, it can be overwhelming for an individual to try to decide what option is best for them. The Pittsburgh-based company Automated Security Alert has been in the process of educating the public on how their services can help seniors and physically disabled persons live independent lives with the assurance that they can summon emergency help when needed. The company has now furthered their mission to educate by providing a section on their website to educate not only patients about options, but health professionals. Automated Security Alert's Director of Life Safety, Jason Seyler, commented, "This section speaks directly to healthcare professionals and how our services help them with care."
The site provides information on solutions for individual patients living at home as well as information for those in independent living and nursing homes. When seniors are living in an environment where they can walk freely around a facility, Automated Security Alert offers products that can allow seniors to get help immediately in an emergency which can be critically important for those who are allowed to take walks outside unattended.
Automated Security Alert, Inc., has provided freedom and security since 1988 to over 60,000 consumers through the use of technology and services that enable seniors, physically-challenged persons and recovering patients to maintain an independent lifestyle in their homes. ASA's creative, dependable solutions include medical alert systems(personal emergency response systems); fall detection systems; telehealth and medication management systems, including electronic pill dispensers and monitored medication dispensers.
For further information, please contact Matthew Couillard at 1.800.338.7114.