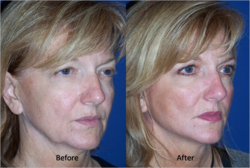 Baltimore, MD (PRWEB) April 10, 2012
Dr. Adam Summers is director of the Maryland Plastic Surgery Center, was Featured on iCheckUp ® and Rated an A+ for Facelifts. Dr. Summers is one of the east coast's leading Board Certified Plastic Surgeons specializing in cosmetic surgery. Dr. Summers is also a Clinical Assistant Professor of Plastic Surgery, and he has been performing minimally invasive face lift and neck lift procedures since 1996. In fact, Dr. Summers' SMART Facelift™ is the first one hour face lift technique reported to provide long lasting results. The SMART Facelift™ and necklift enables patients to return to normal social activities within days. After this one hour facelift and necklift procedure, patients typically have no visible incisions or significant bruising or swelling. This is a significant improvement over other facelift and necklift techniques (such as the Quicklift and Lifestyle Facelift procedures) which can result in permanently visible scars and weeks (or months) of swelling and bruising.
According to the American Society of Plastic Surgeons, there were over 113,000 facelift procedures performed in the U.S. in 2010. This is up over 9% from the prior year. Additionally, minimally invasive procedures, such as the One Hour SMART Facelift™, are up 6%. Baltimore and Annapolis facelift patients will be delighted to learn that Dr. Summers is one of the few board certified plastic surgeons who specializes in facial rejuvenation. Although sun damage, stress, gravity, and other factors can cause the skin to sag -- Dr. Summers, medical director of the Maryland Plastic Surgery Center, can restore a natural, youthful appearance with a face lift. Patients seeking a facelift in Baltimore and Annapolis region appreciate Dr. Summers' sophisticated techniques which impart a fresh, natural and youthful appearance without the visible signs of aging. And, for many patients face lift surgery can be completed in just one hour.
Dr. Summers is not only a highly qualified plastic surgeon but independent patient reviews also ascertain his expertise. He has been featured on iCheckup® with an A+ rating for facelifts. The website at iCheckup.com is a portal to a network of specialty health care sites. The iCheckup® network is designed to help enhance the relationship between consumers and health care providers. iCheckup® is not "just" a ratings website. Unlike other ratings sites, iCheckup® encourages a dialogue between health care providers and their patients. An open dialogue can help patients achieve optimal satisfaction and can help health care providers provide optimal services. Dr. Summers is a Featured Provider. Featured Providers have obtained a PowerRating® demonstrating that the majority of their treated patients are very pleased with the care provided.
MDCosmetic.com
Maryland Plastic Surgery
Adam Summers, M.D.
Info(at)MDCosmetic(dot)com
410-553-9444
"I Support The H.O.M.E. Foundation"
About The H.O.M.E. Foundation:
The Helping Others Means Everything, or The H.O.M.E. Foundation, is a not-for-profit organization dedicated to helping our Family of Charities. Frank Verdugo, President of The HOME Foundation, wants to help as many worthy charities as possible as they struggle during these tough economic times. Frank Verdugo helps raise funds through luxury dream home raffles, home giveaways, prizes, and high profile celebrity events in Hollywood... "Our mission is to help charities reach their fundraising goals and to bring awareness to their praiseworthy causes." Please visit our 2012 Dream Home Raffle Giveaway at: http://www.HOMEFoundationRaffle.com and http://www.facebook.com/HOMEFoundationRaffle.
# # #