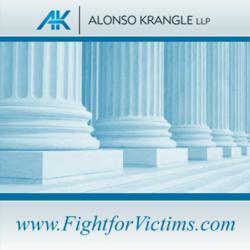 Alonso Krangle LLP is currently offering free evaluations to any family whose child was injured by a dangerous toys, including toys with magnets, defective cribs, and slides.
Melville, NY (PRWEB) April 10, 2012
Attorneys Andres Alonso and David Krangle, founding partners of Alonso Krangle LLP, a national law firm focused on fighting for the rights of children injured by defective products, announce the launch of an investigation into serious injuries associated with children's toys, nursery products and playground equipment. Their firm is currently offering free child product liability injury lawsuit evaluations to any family whose child was injured by a dangerous product, including magnetic toys, defective cribs and slides.
A toy or product that is intended to be used by or for a child should be designed and manufactured with the utmost care. Sadly, that is not always the case. According to statistics from the Consumer Products Safety Commission (CPSC):
There were an estimated 251,700 toy-related injuries treated in U.S. hospital emergency departments in 2010. [cpsc.gov/library/toymemo10.pdf]
A total of 81,700 children under 5 were injured in 2010 because of dangerous nursery products, including cribs, infant carriers, strollers and high chairs [cpsc.gov/library/foia/foia12/os/nursery10.pdf].
Dangerous playground equipment caused 2,691 injuries, including 40 deaths between 2008 and 2011. [cpsc.gov/library/foia/foia10/os/playground.pdf ]
Potentially dangerous children's products currently being investigated by the personal injury lawyers at Alonso Krangle LLP include:
Magnetix and other High-Powered Magnet Toys: From 2008 through 2011, the CPSC received more than 200 reports of children swallowing magnets and at least 18 of those children required emergency surgery to remove the magnets. Swallowing these magnets can cause small holes in the stomach and intestines, intestinal blockage, blood poisoning and even death. Since 2006, the CPSC has issued numerous recalls for high-powered magnet toys, including Magnetix building sets. [cpsc.gov/cpscpub/prerel/prhtml12/12037.html]
Defective Cribs: In June 2011, the CPSC revealed that it had recalled more than 11 million dangerous cribs since 2007. Drop-side cribs with detaching side rails were associated with at least 32 infant suffocation and strangulation deaths since 2000. Additional deaths have occurred due to faulty or defective crib hardware. [cpsc.gov/cpscpub/prerel/prhtml11/11260.html]
Playground Slides: According to the CPSC, slides or sliding boards accounted for 21% of all playground equipment injuries reported to the Commission between 2001 and 2008. During the same time period, 12 deaths were associated with slides. [cpsc.gov/library/foia/foia10/os/playground.pdf] In February 2012, the CPSC announced a recall Slalom Glider Slides manufactured by Landscape Structures Inc., of Delano, Minn. The Slalom Glider Slide had been associated with 16 reports of injuries to children, including 14 fractures to arms and legs, one fractured collar bone and one bruised spleen. [cpsc.gov/cpscpub/prerel/prhtml12/12109.html]
If your child sustained a serious injury due to a dangerous toy, nursery product, or piece of playground equipment, your family may be able to file a lawsuit seeking compensation from the manufacturer, supplier and others who brought the dangerous item to market. To discuss a potential lawsuit with one of the experienced and compassionate child product injury lawyers at Alonso Krangle LLP, please contact us at 1-800-403-6191 or visit our website, FightForVictims.com.
About Alonso Krangle LLP
Andres Alonso and David Krangle, attorneys with almost 40 years of collective legal experience, have focused their law practice on the handling of significant product liability cases, defective drug lawsuit and medical device lawsuits, construction site accidents, nursing home abuse, medical negligence, whistleblower actions and consumer fraud cases. A national law firm representing injured victims throughout the U.S., Alonso Krangle LLP is headquartered in Long Island, New York, with offices in New York City, and plans to open additional locations in New Jersey.
For more information about Alonso Krangle or to join the fight and be a part of our team, please contact us at 1-800-403-6191 or visit our website, http://www.FightForVictims.com.
Contact:
Alonso Krangle LLP
445 Broad Hollow Road
Suite 205
Melville, New York 11747
Toll-FREE 1-800-403-6191
Tel: 516-350-5555
Fax: 516-350-5554