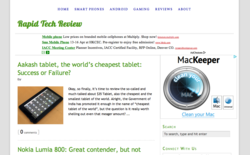 for a lot of our readers, it's important be aware of what's coming next
Los Angeles, California (PRWEB) April 11, 2012
RapidTechReview.com has announced that they are preparing for a major website redesign and are introducing a new initiative to focus on new and emerging technology on top of their reviews of the latest technology gadget reviews.
This follows the announcement of a new team handling the tech website's operations, led by Head Web Developer Ted Leitz. The new team has since pushed for more innovative content over the regular gadget reviews featured on the site.
The new design will feature a more appropriate look for the new direction that the new team is taking the website. The new site will also adapt to social networking and social media, taking advantage of new advances in social media technology.
RapidTechReview.com has been consistently covering reviews of the latest technology gadgets in the market, from iPads, Galaxy Tabs, to the Nikon D800. The site has also featured special features on tech rumors and new apps and app development.
The new directive to add focus on technological development and emerging and new technology aims to present readers with more variety in content and eventually a better and wider grasp of the technological landscape.
Head Web Developer Ted Leitz says that "with the way that people use technology now, we feel that our readers will be very interested in learning more about how technology is evolving now and where it's going." He adds that "for a lot of our readers, it's important be aware of what's coming next."
About Rapid Tech Review
Rapid Tech Review is a tech and gadget blog that features news and reviews on emerging and new technology, gadgets and games. The site also features informed and detailed analyses of current and future technology. Rapid Tech Review puts a focus on lesser known brands and technology that may be left out of other tech and gadget blogs.
###