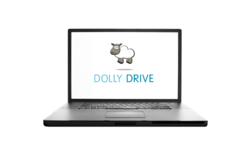 Dock Station is a robust local cloud solution for the Mac ecosystem.
New York, NY (PRWEB) April 10, 2012
Cirrus Thinking, makers of the award winning Mac-based cloud productivity suite Dolly Drive will showcase it's new private cloud solution Dock Station at the NAB (National Association of Broadcasters) show in Las Vegas, April 16-19. Qualified attendees will be able to sign up for a free 30 day on location trial with a 2 TB version of the Dock Station at the Cirrus Thinking booth.
"Most creative teams use a flimsy mix of local hard drives and free file-sync tools to backup or share their high value digital video and print work" said Leigh Kessler, Head of Marketing. "Dock Station is a robust local cloud solution for the Mac ecosystem that ensures any Apple user's work is backed up locally with Time Machine, cloned for disaster recovery, and easily shared and accessed with productivity tools like Dolly Sync and Dolly Space – all in a single Apple-friendly interface."
The private cloud device can also integrate with Dolly Drive's data center for offsite redundancy. Cirrus Thinking and the Dock Station solution can be found at Booth # N5437
About Cirrus Thinking
Cirrus Thinking was founded in 2009 by a pair of passionate Apple fans with the goal of delivering the critical advantages of cloud services to Apple users at the consumer, small businesses and enterprise levels. The first product Dolly Drive, an online backup solution for Apple's Time Machine launched in 2011 and was named MacLife Magazine's Best Software and Best of Show at MacWorld 2011. Cirrus Thinking has offices in New York and Miami, with data centers located in the United States and Europe.