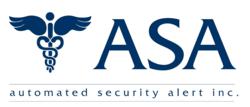 Pittsburgh, PA (PRWEB) April 16, 2012
Many healthcare companies offer a variety of in-home medical equipment, and many of these companies expect their customers to install the potentially life-saving equipment on their own. The Pittsburgh-based company Automated Security Alert refuses to take the risk of having their medical equipment installed improperly. Jason Seyler, Automated Security Alert's Director of Life Safety explained the company's position on the issue by stating, "Many companies do not want to spend the money to send in a medical technician for the installation of these technologies, they rather try to help the family install them over the phone and so the consumer never gets properly trained nor embraces the technology."
Automated Security Alert will not put the stress on their customers of hoping the technology is properly installed. Instead, they employ medical technicians who are trained to install the equipment and then teach the customer how to use the equipment face-to-face, so that the customer has a complete understanding of how to use the technology. Automated Security Alert medical technicians are friendly and family-oriented. Additionally, another aspect of customer service that Automated Security Alert refuses to compromise on is their phone service. All calls to the company are answered by a live person in a U.S.-based call center with 24-hour service. The company does not use an automated phone system.
Automated Security Alert, Inc., has provided freedom and security since 1988 to over 60,000 consumers through the use of technology and services that enable seniors, physically-challenged persons and recovering patients to maintain an independent lifestyle in their homes. ASA's creative, dependable solutions include medical alert systems(personal emergency response systems); fall detection systems; telehealth and medication management systems, including electronic pill dispensers and monitored medication dispensers.
For further information, please contact Matthew Couillard at 1.800.338.7114.